Action cameras have been a must-have for adventurous folks since they were made famous by GoPro, and now the compact DJI Action 2 from Chinese drone maker is looking to be a part of any traveller or adrenaline junkie's packing list.
It is aimed at occasions when a smartphone isn't always the smart choice. Think of rollercoaster rides, off-trek cycling or jumping off a cliff to pristine waters below.
Yes, a camera such as the aptly named DJI Action 2 must be able to take some hard knocks and be submerged in water. Is it up to the task?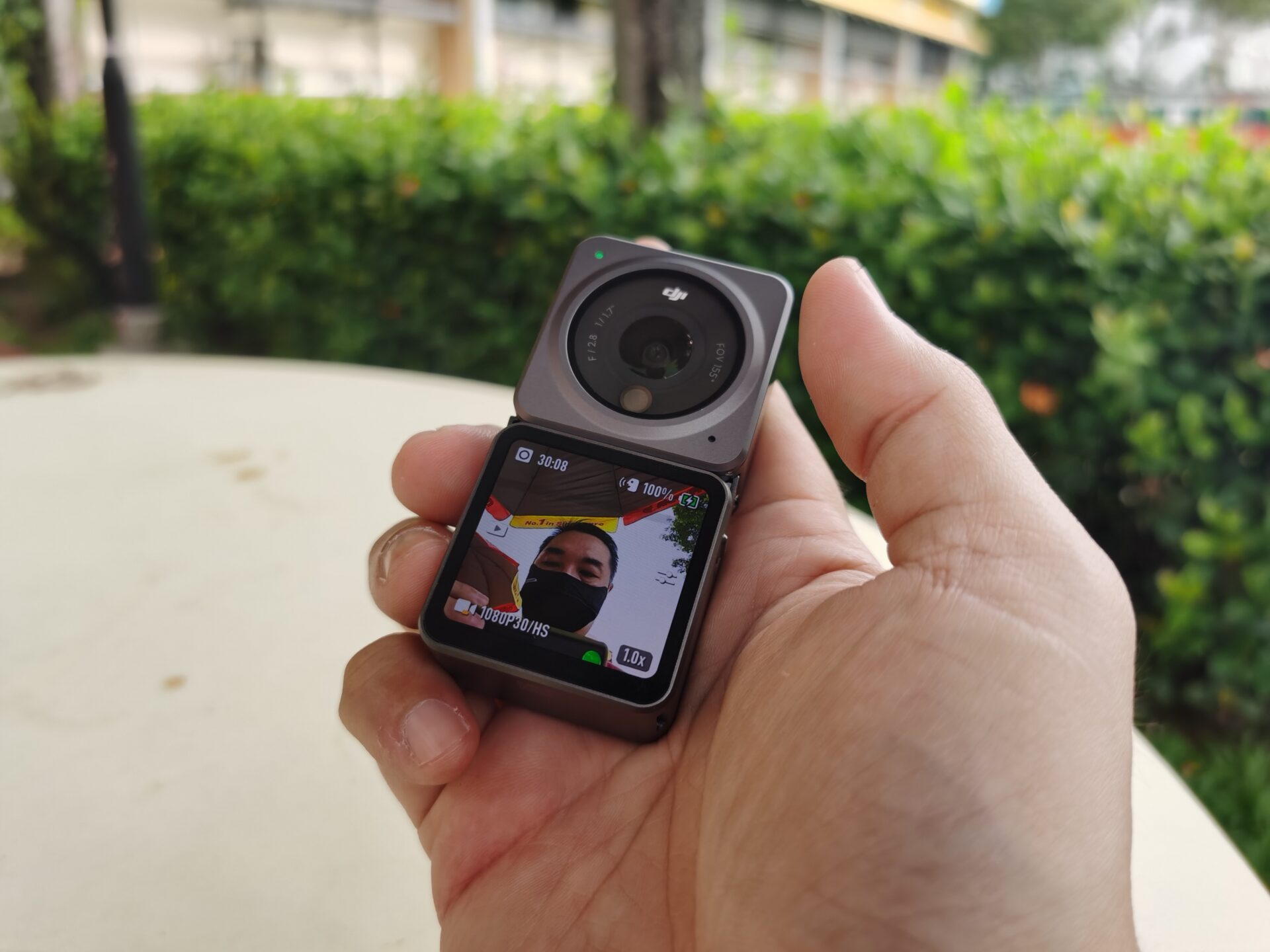 For starters, it seems to have hit the right spots when it comes to portability, size and ease of deployment. The 64g gizmo is only 39×39×22.3mm in size, taking very little space in my camera bag. It is smaller than my own GoPro 7 and even the cube-like GoPro Hero Session.
The Action 2 also has a built-in magnet at the bottom to stick itself to most metal surfaces for some creative shots.
Just beware that the magnet may not always be strong enough when you use it with the included magnetic lanyard holder. During my tests, I accidentally sent the camera flying while running across the street.
Clad in aluminium, it was hit with some surface damage but the gorilla glass-clad screen and lens cover survived the fall with no visible scratches. I just wish there is a way to attach a protective lens filter.
Thankfully, the other accessories, such as the tripod head and GoPro mount, held the camera firmly with magnets and metal clasps and did not detach from the holder during my vigorous tests.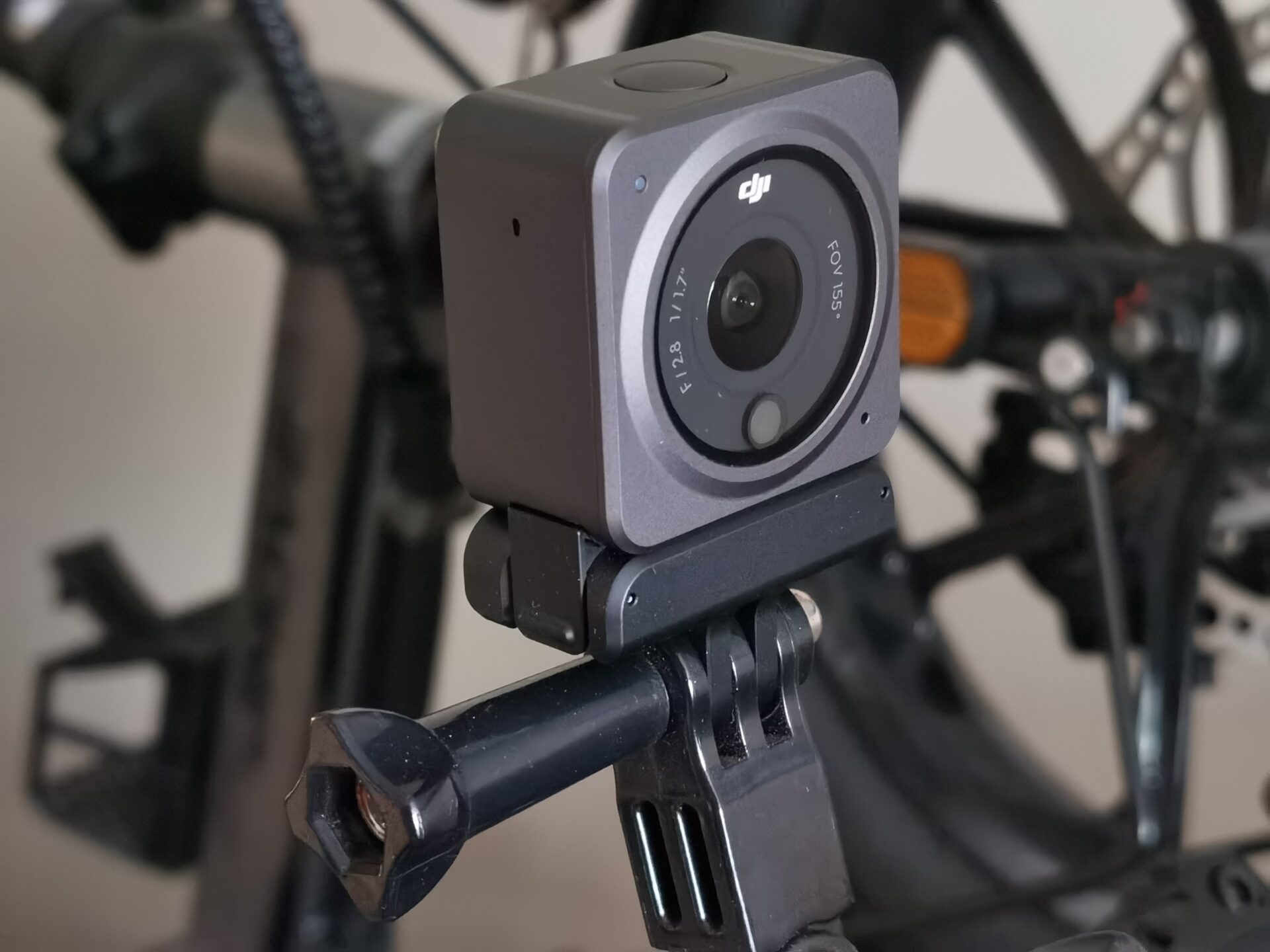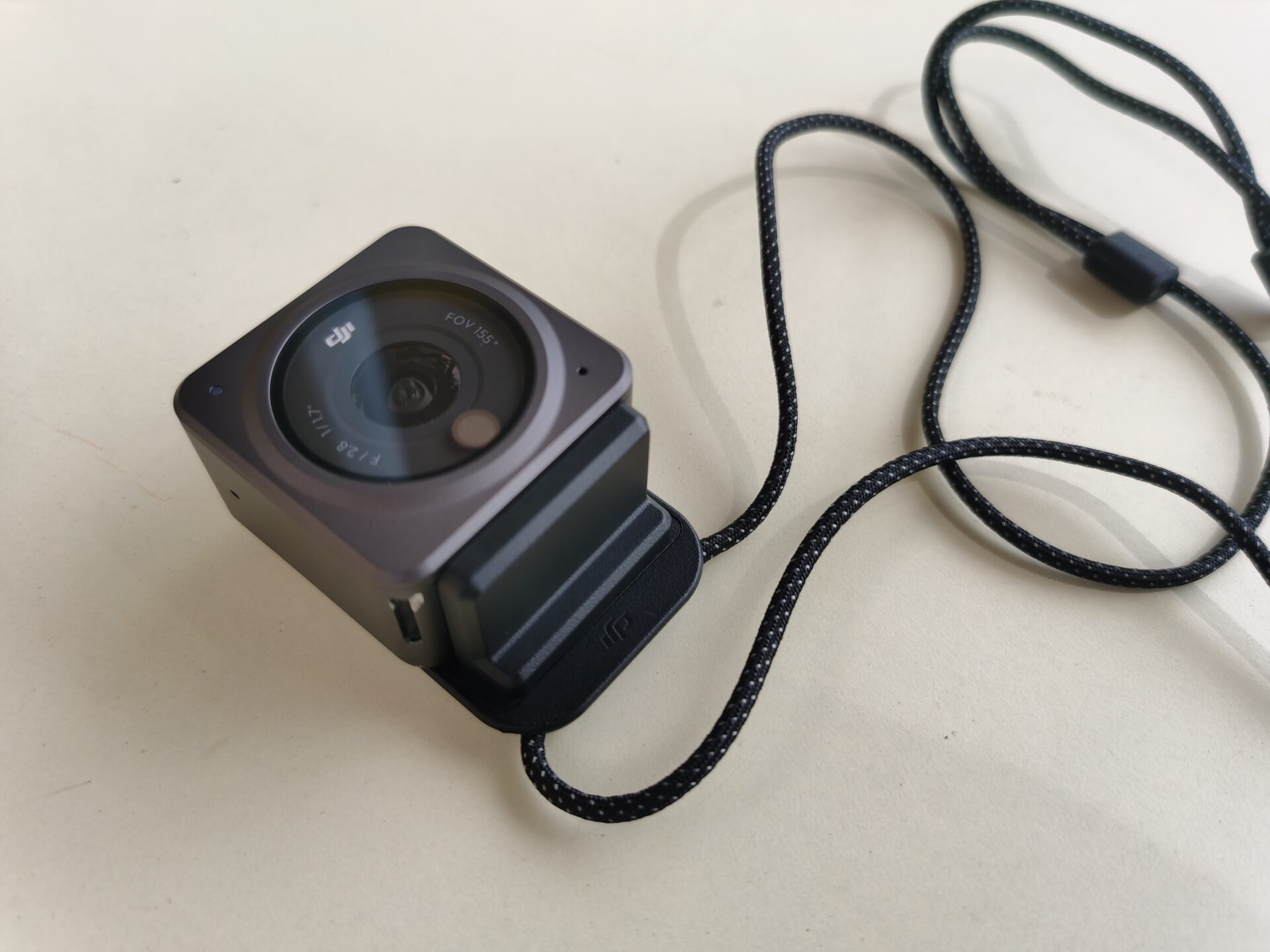 Besides the innovating mounting mechanism, there is a lot to like about DJI Action 2. The camera comes with a rather large 1/1.7-inch CMOS sensor and an ultrawide 12.7mm (full-frame equivalent) lens, which are great for image quality and versatility.
Plus, it can record 4K-resolution videos with a maximum framerate of 120 frames per second in the H.264 or HEVC video file formats.
The ultrawide-angle lens also helps with digital stabilisation when capturing video footage on moving vehicles or if you're just walking while doing a vlog. The overall stabilisation performance is on par with GoPro and Insta360 action cameras when used in daylight.
There is even a HorizonSteady mode to make sure the horizon is straight. Bad news is that the video resolution has to be lowered down to 2.7K in a 16:9 frame.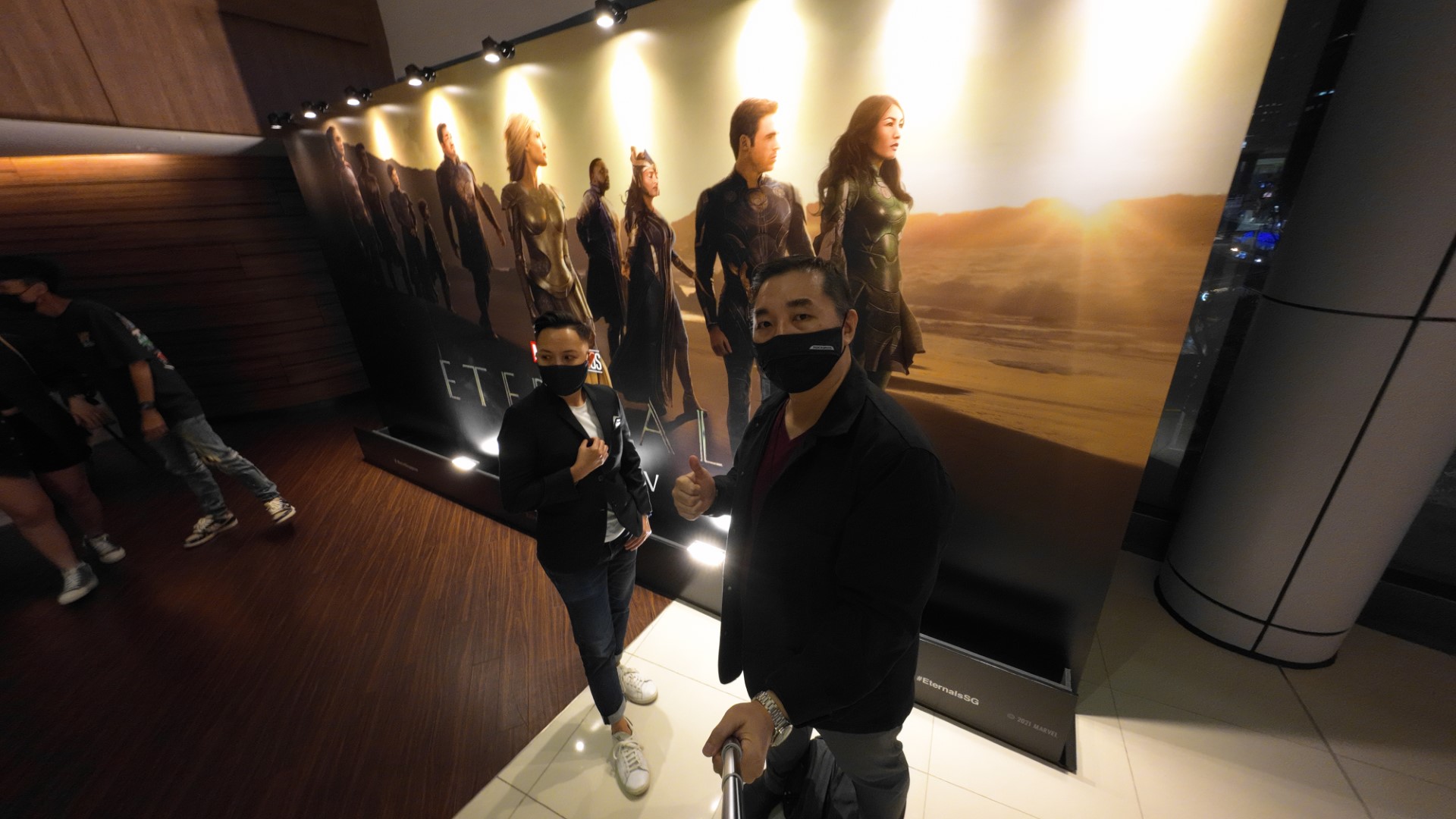 While the ultrawide lens is great for immersive action videos, it is not that great when it comes to photos. The distortion can be jarring for some and not flattering at times.
Its lack of close focusing also means you can forget about doing food shots with it. It is designed for action videos after all.
Low-light performance in neon-lit or LED-lit scenes is also not great with the Action 2. Flickering can be seen and the camera does not stabilise well if you're walking through, say, bars and restaurants at night.
Videos from the Action 2, while sharp, often look overexposed if left in automatic mode. I find myself dialling down the exposure to recover some details in the highlights. The colours are a bit too punchy for my taste and unfortunately, there is no way to lower the saturation.
However, I do appreciate that the video files can be shared rather quickly via the DJI Mimo app, the same app that can be used with the DJI OM5 gimbal.
So, this makes it easier to switch equipment on the go and no editing is necessary, unlike the 360 video clips you get from the rival Insta360 OneR camera.
With such a capable camera, the 32GB storage capacity is a bit small for 4K videos. To add more storage, I have to attach the front-facing screen module that has a MicroSD card slot to expand both the storage space and battery power.
This also adds another additional three microphones to capture speech, which is useful for doing some vlogging. The downside is the size of the camera will increase so make sure you have space to accommodate both modules.
Another good thing is that the camera module alone can record up to 70 minutes of video footage using the power saving mode, capturing FullHD 1080p at 30fps with no stabilisation. You can also capture about 26 minutes of videos with 4K resolution at 60 frames per second.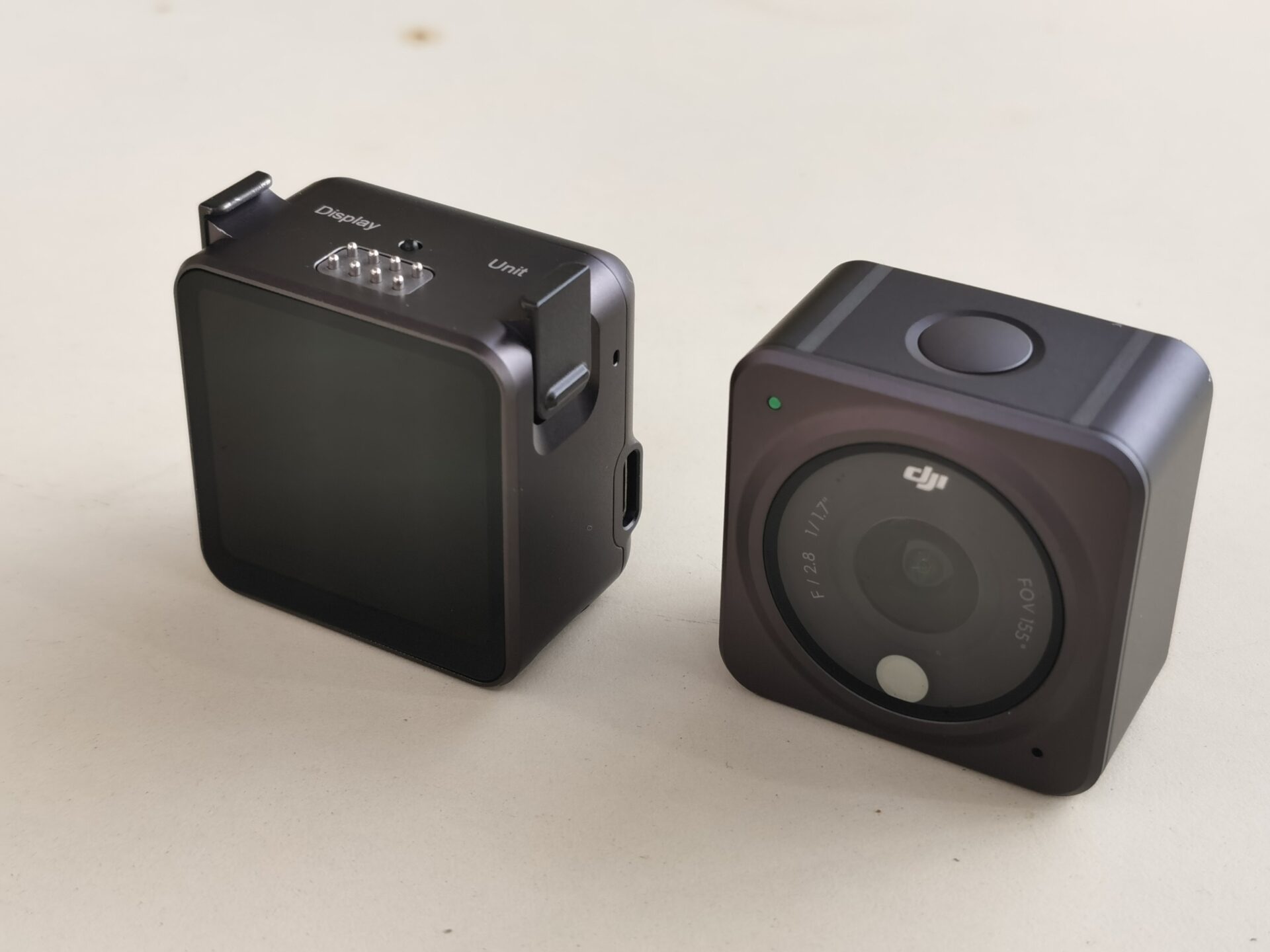 The Action 2 is fully submergible up to 10m which is plenty enough for most water sports. Recreational divers must buy a waterproof case for the camera to go up to 60m deep.
Similar to GoPro cameras such as the Hero7, I can hook up the Action 2 to my PC as a backup webcam through a USB Type-C port. This is more convenient than using a separate micro HDMI port.
The Action 2 will be even more useful if the onboard microphone can be switched on for video conferencing too.
The Action 2 is a camera that looks sleek thanks to its aluminium case. However, since aluminium is more malleable, any drop will result in chips and dings.
It also explains why the unit runs hot to the touch when you use it as a webcam or capture videos for long periods. It will be fine if you are doing short snippets.
One more gripe I have with the Action 2 is camera's inability to auto-rotate during recording. That means you have to start recording your vlog with the camera in an upside-down orientation before putting it on the lanyard.
To be sure, the Action 2 is an innovative product and can be handy in many scenarios. It lets you take underwater shots without using any waterproof casing, which makes it one of the most versatile cameras around.
For best results, just make sure you don't switch on the stabilisation system when using it in low-light areas.

The review unit I got was part of a dual-screen combo that is selling for S$779. The Power Combo that comes with an extended battery pack sells for S$639. If selfie videos are important for you, the dual-screen combo is the one to go for.