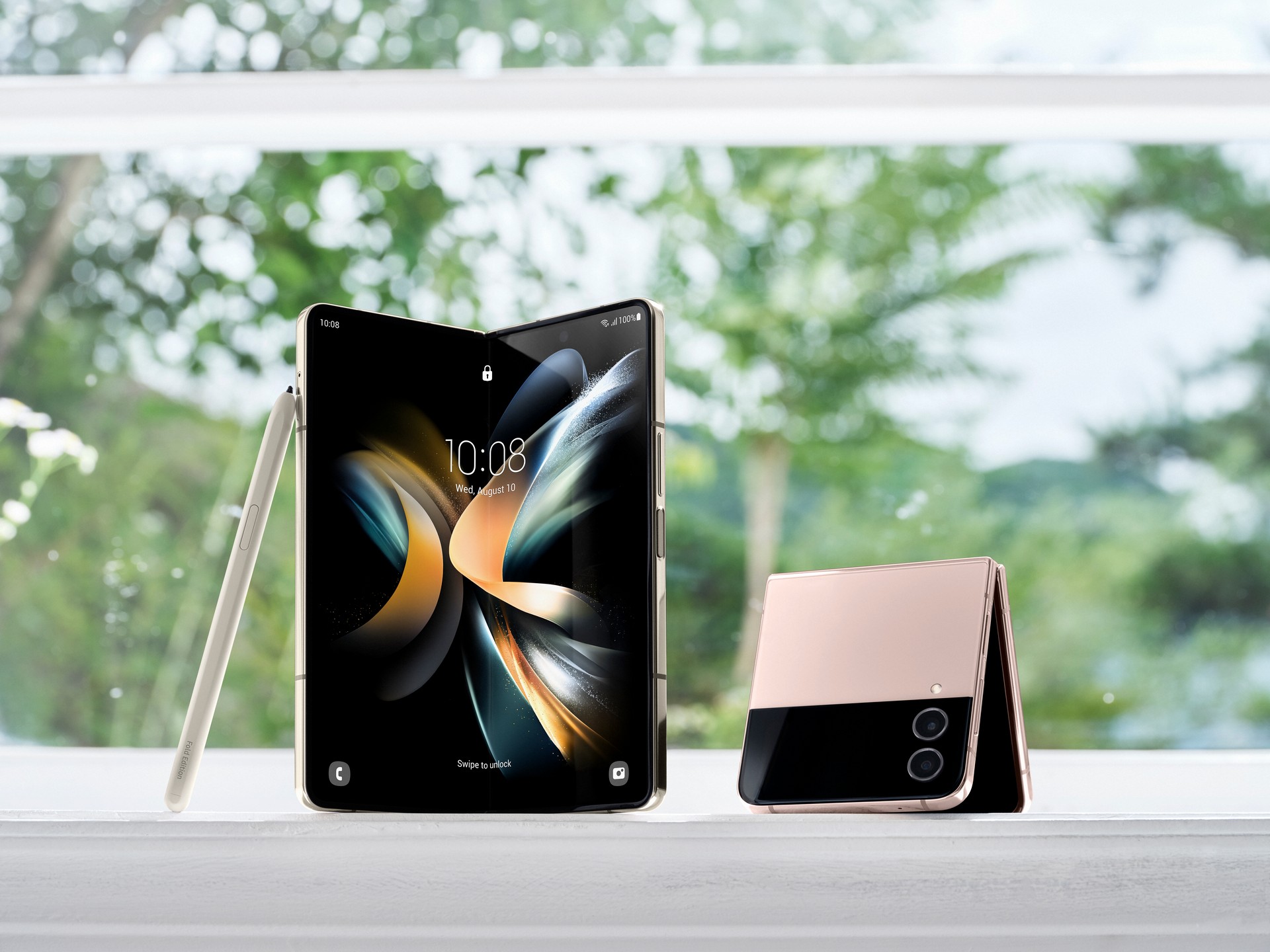 Samsung's latest flip and fold phones – the Galaxy Z Flip4 and Galaxy Z Fold4 – will go for the same price as last year's models at launch, even as the Korean electronics manufacturer tries to ramp up adoption of these flexible designs.
The Galaxy Z Flip4, a phone that flips open to reveal a long, flexible screen, will cost S$1,398 for a 128GB model. A 256GB variant will go for S$1,498 and the top-end 512GB one costs S$1,748.
There are even bespoke versions, offering 75 options through different glass colours and frame options. Each phone goes for S$2,398 for a 256GB version, going up to a whopping S$2,938 for a 1TB one. If you want to zhng or tweak your Samsung flip phone, prepare the money.
The larger Galaxy Fold4, which offers a tablet-like experience when its flexible screen is unfolded, will go for S$2,398 for a 256GB version, S$2,578 for a 512GB one and S$2,938 for the 1TB one.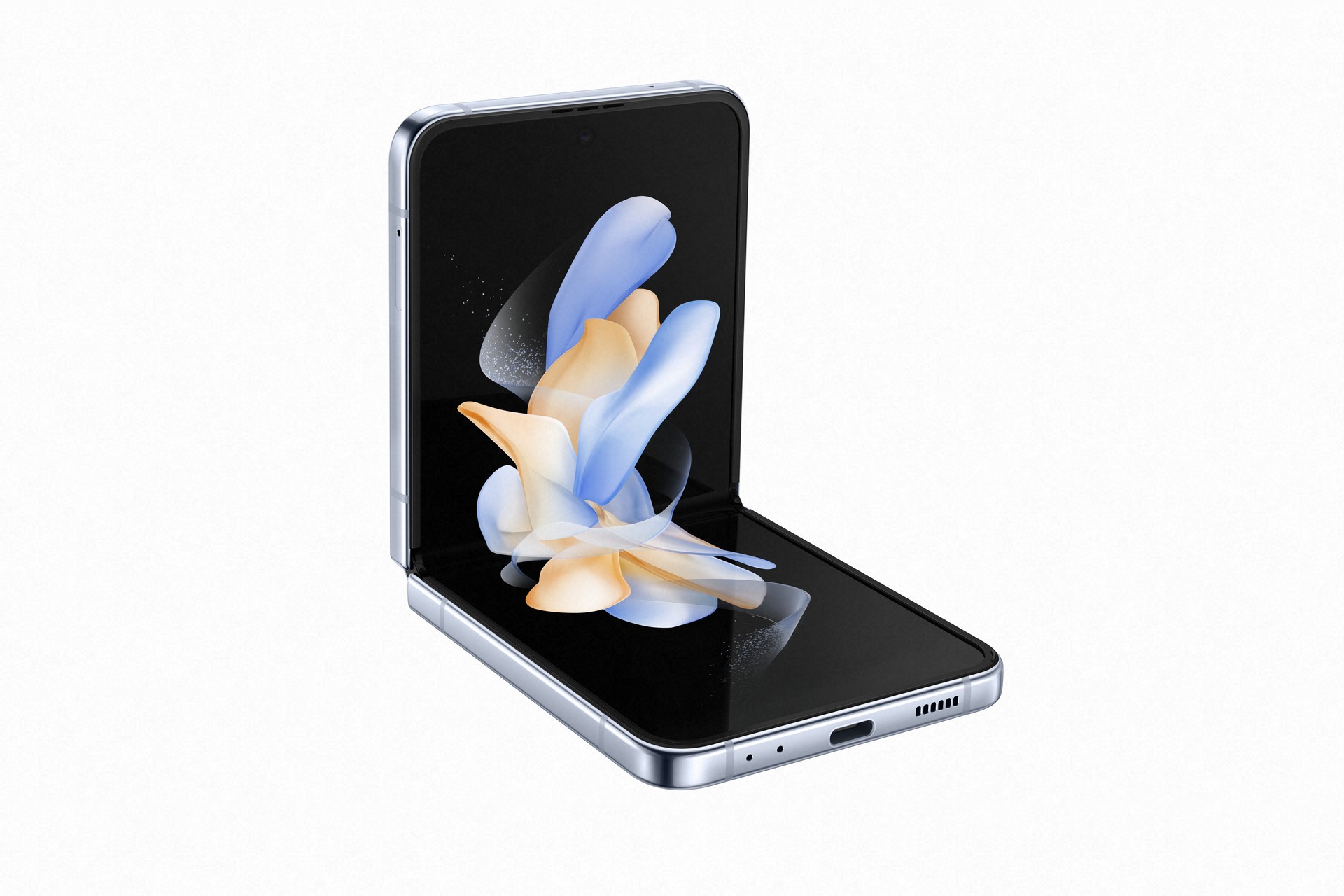 Now into their fourth iteration, this year's foldable Samsung phones sport the same water resistance introduced last year while also promising to be sturdier than earlier models that some users found less than confident using.
However, Samsung has stuck to its high prices this year, despite some expectations that it might price the phones lower to attract more users to take up a foldable screen.
The good news is that the new phones are edging even closer to meet expectations of users of regular candybar-shaped phones, while offering a more advanced screen.
The 187g Galaxy Z Flip4, for example, features a slimmer hinge than last year, while retaining the 6.7-inch foldable main screen and a 1.9-inch screen on the over.
Samsung also says the screen is tougher now, thanks to the material used, so you should worry less about its durability from regular wear and tear.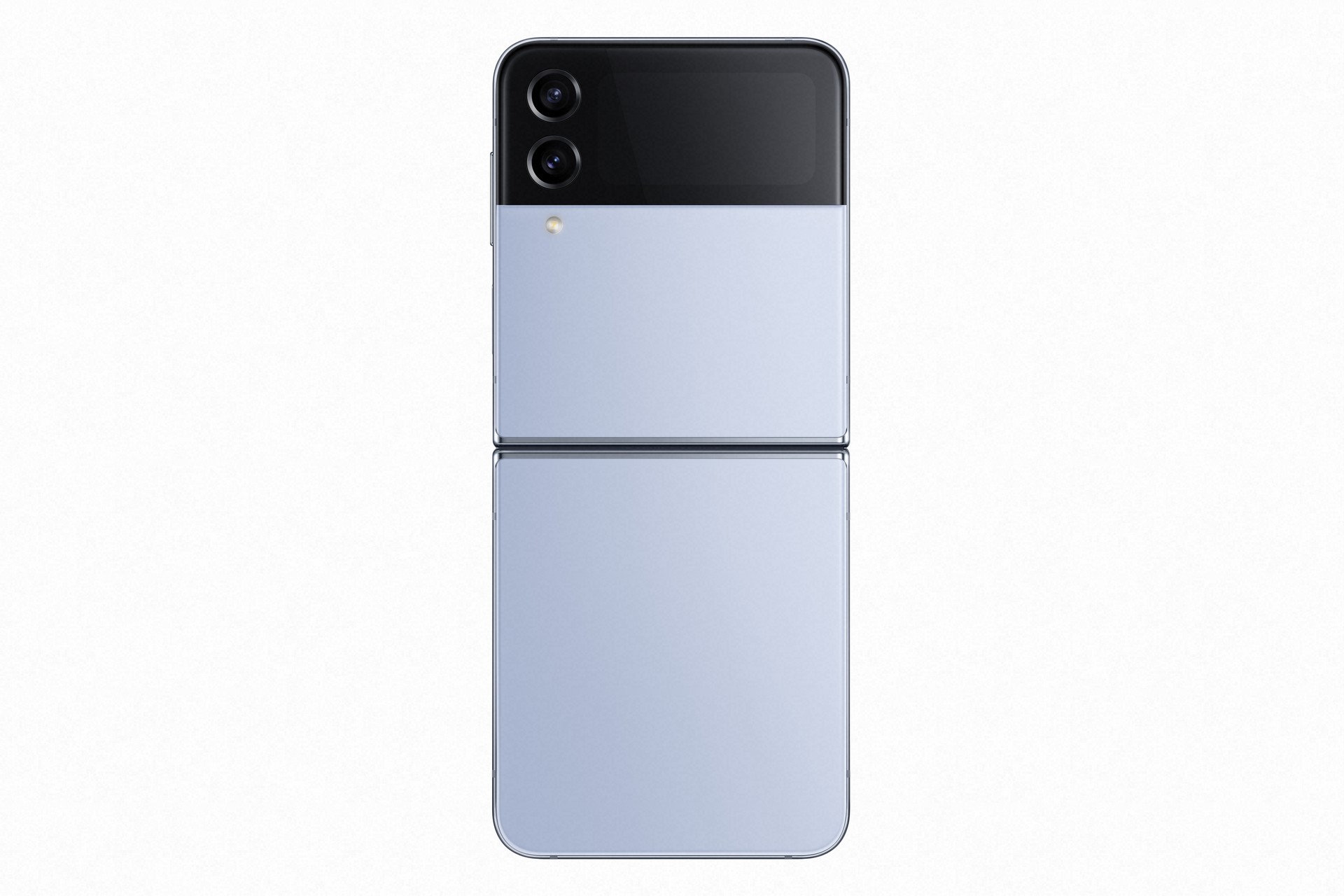 For cameras, the Galaxy Z Flip4 comes with a 10-megapixel selfie camera on the front and two 12-megapixel cameras inside – one ultrawide-angle and one wide-angle – to give you options for snapshots.
With the flip function, you can fold the phone and "sit" it up to get a nice preview of a selfie before firing. Or, if you want, use the cover screen to get a preview of a shot from the rear cameras before shooting.
Under the phone's shiny cover, you get a 4-nanometre processor – a Qualcomm Snapdragon 8+ Gen 1. The beefier 3,700mAh battery also means you can go longer without having to plug in the phone to charge it up.
The bulkier Galaxy Fold4, meanwhile, continues the same look as the original three years ago. As the photos suggest, it isn't a drastic upgrade over the previous year's model.
Yes, you get a slimmer hinge and the bezels are narrower, which make the phone sleeker. It also helps that it is slightly lighter at 263g, down from the Z Fold3's 271g, though the difference may not be obvious in your hands.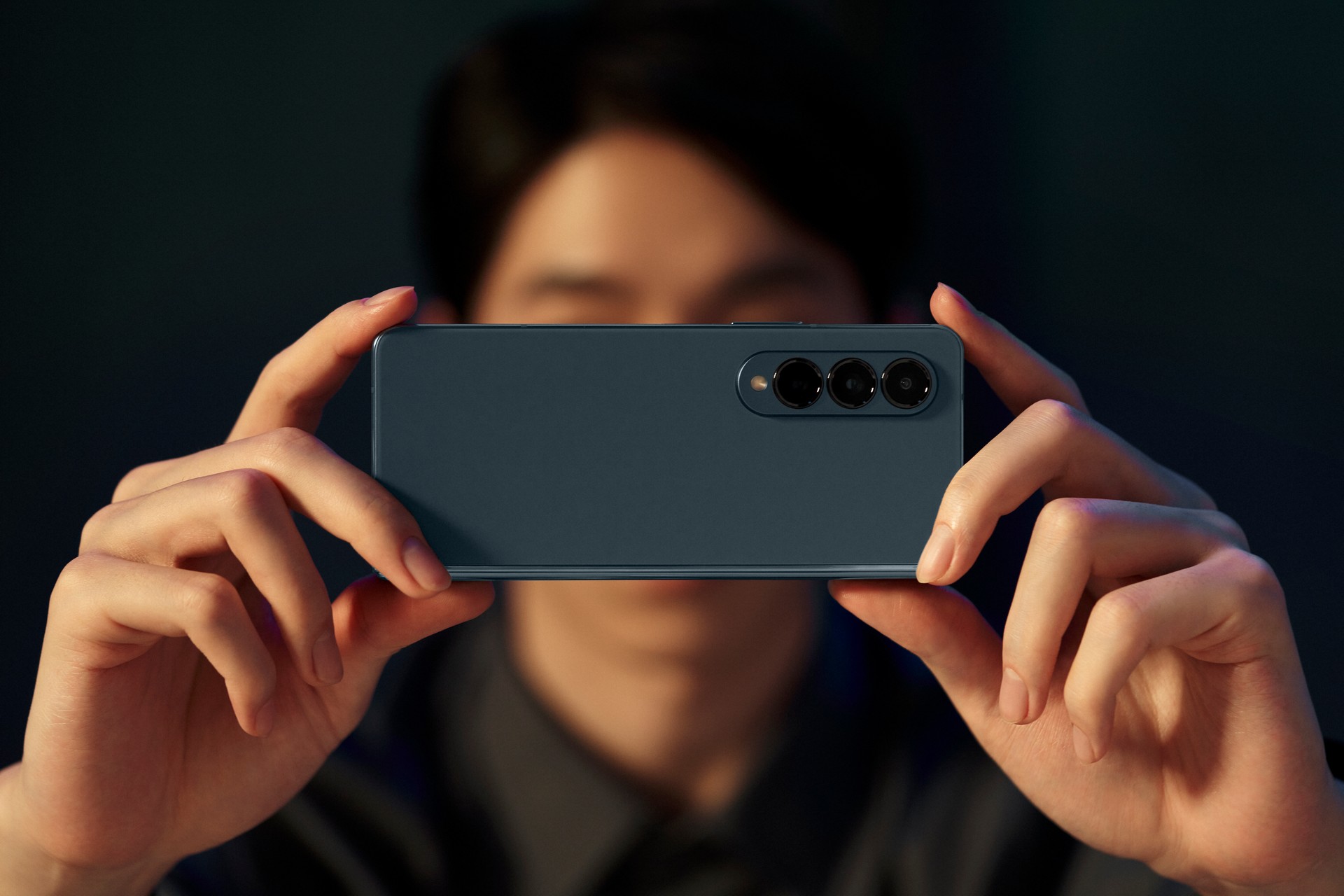 Yet the biggest selling point remains the foldable screen. The main screen unfolds into a 7.6-inch AMOLED display that is not just great for surfing the Web and watching Netflix but also to edit an Excel file or two.
Samsung says this screen is also stronger than before – 45 per cent more so, it claims – so you can safely open and close the lid as long as you don't subject it to some machine test.
There's a 4-megapixel under-display camera here that should come in handy for video calls, for example. You can take selfies with it, too, of course.
But you can also do so with your phone closed. The handy 6.2-inch cover screen, which is now wider, is great for answering calls or replying messages. It can also be used to take photos with the rear triple camera array or the cover camera for selfies.
Yes, there are five cameras in all. The main triple-camera array in the rear, formed in a typical Samsung fashion, sports a 12-megapixel ultrawide camera, 50-megapixel wide-angle camera and 10-megapixel telephoto camera.
In terms of imaging prowess, you don't have to lose out much to regular Galaxy S users now if you use the bulkier Galaxy Z Fold4.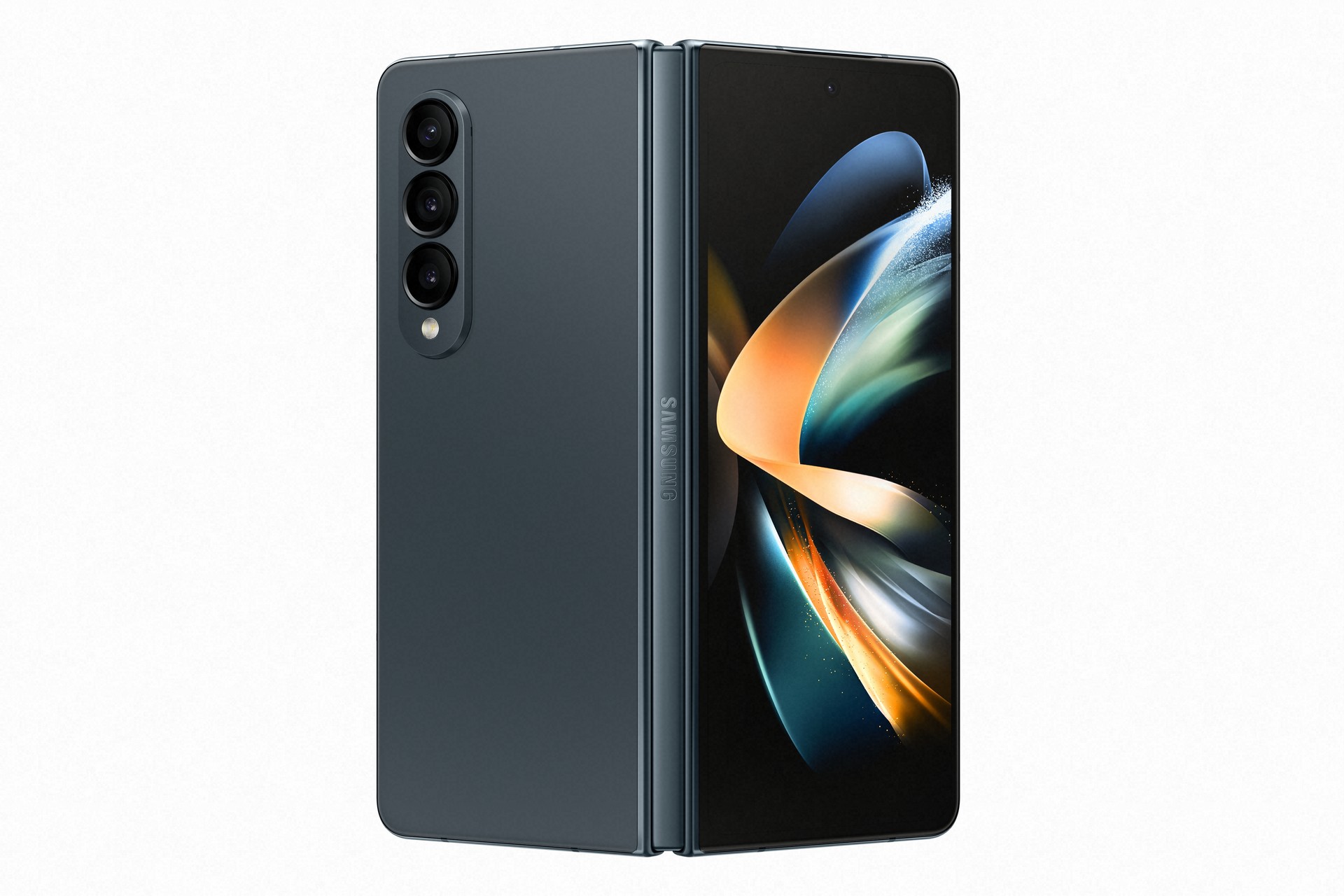 Like the Galaxy Z Flip4, it will come with the latest Snapdragon 8+ Gen 1 chip. It's also water-resistant up to the IPX8 rating (don't dunk it into water deeper than 1.5m or for longer than 30 minutes).
What's good is that the battery is a hefty 4,400mAH affair. You'd need it, after all, given the number of screens onboard.
It quite clear Samsung hasn't rocked the boat with the designs of its two foldable-screen phones this year.
One reason could be that it's encouraged by the response so far to its phones catering to two distinct demographics – the fashionista and the geek/executive – so it's confident these designs will continue to work.