For gamers who have always dreamt of firing up their PC games on the go without lugging a gaming laptop around, the arrival of portable gaming devices such as the Steam Deck and more recently, the Asus ROG Ally, is making this dream a reality, albeit with some trade-offs.
The Steam Deck has been out in some countries like the United States, Canada, Britain and the European Union since February 2022. More recently, the Steam Deck was made available in Japan, South Korea and Taiwan.
Although the Steam Deck can be purchased by online resellers and importers, the device maker Valve is not officially selling it or supporting it in Singapore yet. 
So it was good news for fans in Singapore to hear of Asus launching the ROG Ally here last month. When I got hold of the much sought-after gadget, I did what any respectable gamer will do — load it with a variety of games and fire them up!
Build me up
A serious alternative to the Steam Deck, the ROG Ally differentiates itself with its hardware and software. Powered by the AMD Ryzen Z1 Extreme processor, 16 GB of LPDDR5 (LP for Low Power) RAM and AMD Radeon Navi3 graphics processor, the ROG Ally boasts better hardware specs than the Steam Deck.
In terms of storage, the ROG Ally packs a 512GB NVMe solid state drive, and comes with a slot for a microSD card that supports up to 2TB for more expandable storage space.
I managed to squeeze in some rather chonky games like Cyberpunk 2077 (60GB), Diablo IV (90GB), Star Wars: Fallen Order (55GB) and Need for Speed Heat (50GB), but it's nice to have the microSD option in case you want to install even larger games like Call of Duty: Modern Warfare, which takes up a good 200GB.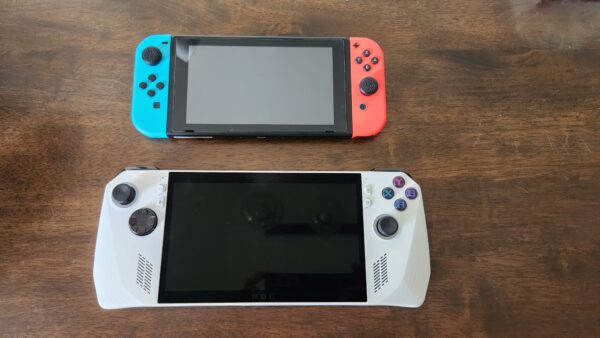 The ROG Ally is a hefty handheld, weighing 608g and measuring 28cm in width and 11.1cm in depth. It is comparatively larger and heavier than the Nintendo Switch (23.9cm in width and 10.2cm in depth and weighing around 400g) but still lighter than any gaming laptop.
Its all-white chassis houses four buttons (A, B, X and Y – much like the Xbox controller layout), a D-pad, two shoulder bumpers, two triggers, two paddles on the underside as well as two thumbsticks lit by eye-catching RGB lights.
There are also four menu buttons that offer easy access to the Command Center, Menu, View and the all important but oddly named Armoury Crate that groups all games and launchers in one place.
What really impresses me is the crisp, sharp and beautiful 7-inch IPS display that is able to run games at Full HD at 120Hz, as well as the loud and clear stereo speakers.
I was not expecting to play graphics intensive games in 4K and 60 frames per second, but for visually impressive games like Cyberpunk 2077, the sight and sound offered by the ROG Ally make for an immersive experience despite the small screen size.
One drawback, however, is that some of the text and subtitles become really small, which will cause a strain to the eyes after a long session.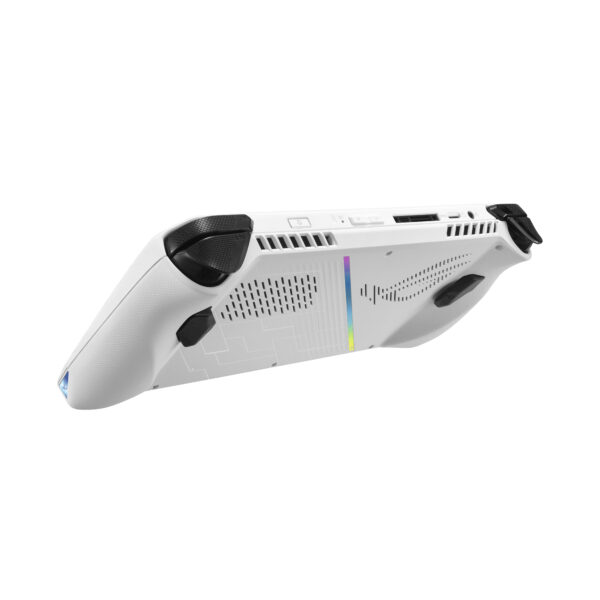 On the top of the console are two wide vents that expel hot air from the console, and I did feel that the air is pretty hot coming out from the unit, even when I was not playing anything particularly stressful, like Minecraft. The back of the console gets uncomfortable warm as well, so don't rest it on your skin for too long.
I managed to play for less than two hours on a fully charged ROG Ally, which probably works for most commutes in Singapore, but not if you are stuck in a six-hour jam on the Causeway. The alternative is to carry a 65W portable power bank with you to keep the console going.
You can also select one of three power modes depending on the performance demanded by the game, but be warned that the highest performance Turbo mode barely lasted one hour on the fully charged ROG Ally. 
The ROG Ally comes with a charging block and cable, which can charge the console up to 50 per cent in 30 minutes. A regular USB-C fast charging cable for mobile phones works although that will take much longer to charge it fully.
Set it up
Running on Windows 11, the ROG Ally is easy to set up for those familiar with Windows. Technically, any game that can be played on a Windows PC should be playable on the ROG Ally but not all games work well with the controller-styled thumbsticks and button layout.
Once connected to Wi-Fi, I installed Xbox, Steam, Battle.net, Epic Games, GOG Galaxy, Amazon Prime Games, Ubisoft Connect and the EA Games apps on the ROG Ally easily.
Even if you don't have games on these platforms, the ROG Ally comes preinstalled with the Xbox app and a three-month Xbox Game Pass Ultimate subscription, giving you access to the huge Windows and Xbox game library.
The ROG Ally starts up in less than a minute, and you can zoom straight to the convenient Armoury Crate and start playing the games you have installed and configured.
Armoury Crate is a program that groups all the gaming apps in one place that can be easily accessed by the press of a dedicated button on the console. You can also drop shortcuts of your favourite games there for easy access.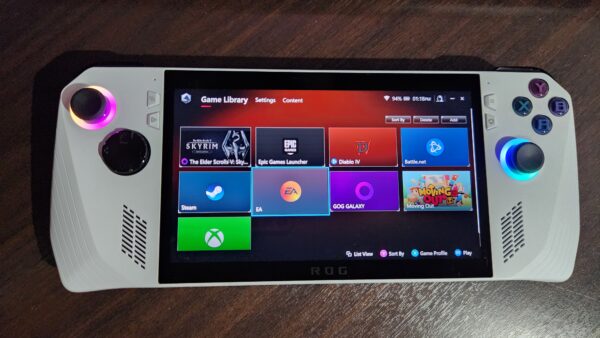 Since it is running on Windows 11, you can technically check e-mails, surf the Web and even work (!) on Office 365, but why would you waste precious power that can be better used for gaming?
The ROG Ally supports Bluetooth, so you can use your atas Bluetooth earphones with it, and also has an audio jack if you prefer wired earphones. With Bluetooth, you can also connect other Bluetooth devices like a mouse and keyboard, if needed.
The ROG Ally also features haptic feedback, and you can control the intensity for the left and the right sides separately. I did feel some vibrations from the console especially when getting run over by cars in Cyberpunk 2077's Night City, but they were rather subtle even at full strength.
You can even stream games from your main gaming PC at home that's running Steam to the ROG Ally via Remote Play. That's handy if you are in another room away from the PC on the same network because you don't have to install the game on the ROG Ally.
I tried out the Streaming option but there were some moments of disconnection, so it's probably safer to install the game if you don't want to risk losing your progress.
For those who want to connect the ROG Ally to a larger external screen, there is an ROG Charger Dock (sold separately) with a USB-C to HDMI connection. This will be available for sale in Singapore sometime in August at S$99. 
The ROG Ally is covered by a two-year international warranty, which is pretty generous compared to the limited non-international one-year warranty offered by the Steam Deck that currently does not cover Singapore.
Game on
The greatest test is how well it runs games. But before actually playing, I spent quite a long time downloading and installing the game launcher apps as well as the actual games. The most time consuming and sometimes frustrating aspect is trying to get the controls to work with certain games.
To configure the controls, I had to toggle between the Desktop mode where the thumbstick works like a mouse to select the control mode within the game, and the Gamepad control mode from the Command Centre for playing the game.
Some games also play better when the buttons are remapped for more intuitive controls and shortcuts, which takes a bit of trial and error. The controls took me a while to figure out and remap such that they feel intuitive, especially for Diablo IV, Brawlhalla and Skyrim.
Thankfully, this is just the initial setup and a one-time effort. However, if you are a gamer with a voracious sampling appetite, you might find yourself spending a lot of time installing, configuring, remapping and testing the games, some of which may still not play well on the ROG Ally.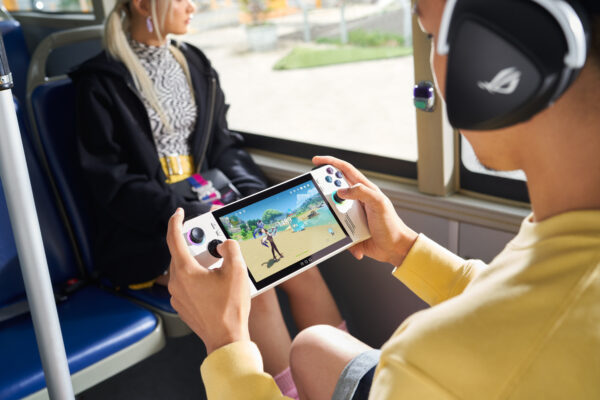 Games that are controller friendly work best on the ROG Ally, which means games that require lots of quick actions with multiple keys and quick movements, like real-time strategy games and older role-playing games designed for the keyboard and mouse will not work well.
Some games, like Cyberpunk 2077, Star Wars Jedi: Fallen Order and Stray, worked right off the bat with the gamepad controls.
The ROG Ally works seamlessly with the Steam gaming service, and the great thing is that you can see which games in your library will play well with the Steam Deck, which will also presumably work for the ROG Ally.
In addition, gamers who like to play modded PC games, such as Skyrim and Minecraft, will prefer the ROG Ally over the Switch since the games are essentially running off Windows and can be modded.
That said, the ROG Ally is not ideal for gamers who do not want to bother with tinkering with the settings, creating game profiles, or mapping controls.
There is also the occasional inconvenience of installing updates and having to login into your gaming app like Steam or Epic Games using the tiny onscreen keyboard. Plus, you need to be connected to Wi-Fi during those times.
You also need to enable offline permissions for games to be available for playing without online connection on the various gaming apps.
For hassle-free plug-and-play convenience, a console like the Nintendo Switch will do much better, where you simply insert a game card, turn on the console and start playing without wasting time fiddling with the configurations.
In terms of gaming performance, I find that the ROG Ally performs admirably well most of the time, but I did encounter some stuttering and slowdowns with games that are graphically demanding.
Diablo IV, for instance, was dangerously slow as my character travelled across Sanctuary beset by hordes of foes, but it could also be due to the connection to Battle.net.
Being a live service game, it might not be the best game to play on a portable game console unless you can be constantly connected to a stable Wi-Fi connection. Definitely avoid playing on the Hardcore permadeath mode.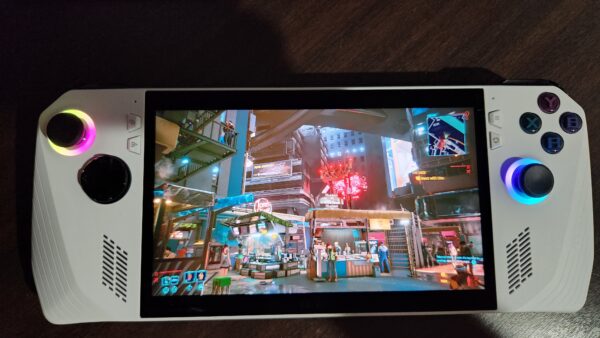 On the other hand, Cyberpunk 2077 plays beautifully with controls that are well-mapped, and looks amazing on the vibrant LED screen. However, there are moments where the game suffers from serious slowdowns, especially in Night City where there are lots of NPCs and cars moving about.  
I tried a racing game, Need for Speed Heat, which plays great on the thumbsticks and trigger buttons, except for my own bad habit of tilting the controller when doing a mad swerve that now also means I have to tilt my head to look at the screen!
And most important of all, I was very glad that Skyrim Special Edition, which I have spent the longest time playing and revisiting, works beautifully after enabling the controller mode in the game.
As before, however, the interface isn't the most straightforward. Aiming a bow with thumbsticks takes some getting used to since the screen is smaller and movements need to be more precise. 
Just for experimental purposes, I tried to play an old but gold role-playing game, Baldur's Gate II, on Prime Gaming. The game was able to install and run but the controller-unfriendly interface and the sheer number of keys made me give up.
The workaround is probably to connect a Bluetooth keyboard and mouse to the ROG Ally but that rather defeats the purpose of a portable console. 
TL;DR
With excellent display and audio, impressive hardware and portability as well as the familiarity of a Windows interface, the ROG Ally is a dream come true for PC gamers on the go during long commutes and plane rides.
However, you need to take into account some practical limitations for this S$999 gaming gadget. One is the battery life, which lasted less than two hours at full charge running on Performance mode. 
The ROG Ally is a great console for gamers who have most of their games on PC, who don't mind spending time and effort in configuring, customising controls and testing games, and like to play modded games.
However, if you prefer a hassle-free gaming experience without spending time figuring out the controls or downloading and installing games, or managing offline modes and updating various games and launchers, the simpler Nintendo Switch that lets you get into the action once you power it up might work better.