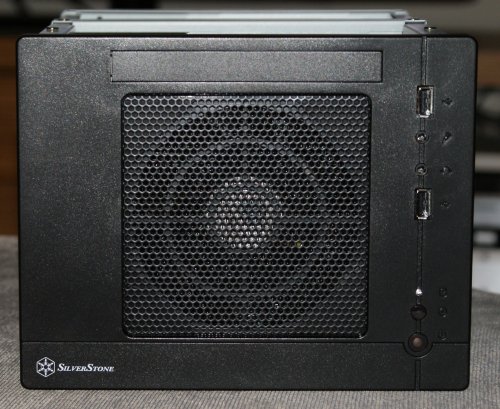 In the end, my NAS was fashioned out of an Intel Atom chip and motherboard and 2GB of RAM (leftover from another PC). I threw in a 2TB hard disk as well.
There's a reason why I used this relatively speedy hardware for simple NAS tasks. It's because Squeezebox Server can be rather demanding – it uses Perl. On a NAS like my QNap TS-209 II that has a slower embedded processor, the songs can be a little slow to show up on my Android device when I scroll through the thousands of tracks. No such problem with the Atom-based machine.
My operating system of choice? FreeNAS, an open-source, freeBSD-based software that not only runs Squeezebox Server to deliver the songs to my living room's Squeezebox device, but is also a powerful OS for a NAS.
It supports nearly everything you can think of – Bit-torrent client (Transmission), uPnP server (Fuppes) and even ZFS file system (if you use it). Nevermind, if you're not a NAS geek, it's alright, just remember that this is a really powerful NAS OS.
The important thing is it runs Squeezebox Server (on Perl) almost without a glitch. I'm currently running version 7.5.3 – the latest – and things are generally smooth. There are some minor UI complaints I have, but for something free, this is really a good solution.
So, what I did was to install my NAS (my previous experience here), copy my songs over to a Songs directory, then install the Squeezebox Server software separately afterwards.
I won't go into all the instructions for that, because here's an excellent step-by-step guide: Michael's SlimStuff. Just note that you have to run the i386 – not the amd64 – version of FreeNAS.
What you need to do is to "point" the server to where your songs are stored, and it would automatically scan the directory and index the tracks accordingly. Once properly set up, your server should be visible on the network to any Squeezebox streaming device. Make sure you password-protect your network as well as your Squeezebox server access.