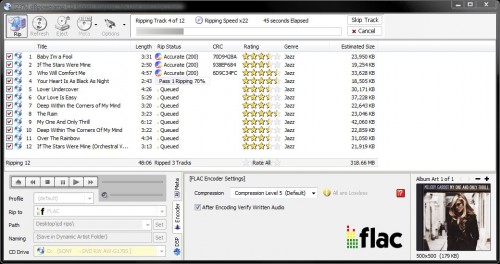 Let's start with ripping and organising your tracks. There are a good number of tools and ways to rip CDs and each of them is covered in length in forums by some of the most diehard audiophiles, who would rip and re-rip a disc to make sure they have a "true" replica.
For me, the best tool for this job is dBpoweramp, which I run on my desktop PC and is both flexible and accurate. When you rip a CD, it basically connects up to a database of previous rips (AccurateRip) to check if your current rip is accurate.
You can choose to re-rip your CD if the system warns you of inconsistencies, or if you have a listen and are happy, you can choose to ignore (remember that CDs pressed in different countries could be slightly different anyway).
There are other tools, like Exact Audio Copy (EAC), which many diehard audiophiles swear by for its no-nonsense approach. The downside is you could take hours to rip and re-rip a disc to get a "perfect" copy.
I prefer dBpoweramp for its flexibility, as well as its great links to five PerfectMeta databases that identify even obscure discs like a compilation by a local Singapore radio station. Chinese CDs, like a recent Jacky Cheung album I got hold of, are mostly identified accurately as well.
Plus, it also rips HDCD discs, which offer additional detail over regular CDs. Only downside is that the software is not free, unlike EAC, though the US$38 is probably the best dollars I've spent on hi-fi.
dBpoweramp really helped in a ripping process which I thought was going to be painful when I stacked my CDs on my desk for the task. But to my surprise, with a fast PC, I could get a CD ripped in mere minutes, with the CD tray popping out every now and then to ask for a new disc.
My digital format of choice is FLAC. Yes, tracks are compressed but we are talking lossless compression, which means you lose nothing in terms of quality. I've ripped songs in the uncompressed WAV format as well, but I honestly cannot hear the difference. It wasn't the savings in storage that made me choose FLAC (hard disks are cheap now), but the fact that I can easily tag them, unlike with WAV tracks.
If you're unsure, hear for yourself if there is a difference in quality. I'd readily recommend FLAC, with this oft-quoted reason: you can't see the difference between a JPEG that has been extracted from a Zip file, can you? Yes, it matters how you compress the file (dBpoweramp provides varying file sizes), but ultimately, there should be no quality loss.
I had earlier wanted to set up a batch ripping machine running the Vortexbox Linux-based operating system. This would automatically rip an audio CD into a pre-selected format once you pop it in, so there is no hassle involved. Plus, the latest version comes with Squeezebox Server pre-installed, which will complement a setup like mine that uses a Squeezebox streaming device.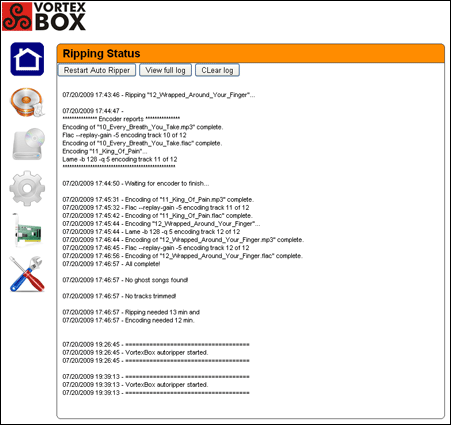 Free of charge, the powerful interface would make many S$10,000 music servers you see at hi-fi stores green with envy. Vortexbox would have been my first choice if I were building a pure music server. My only problem was that my NAS also served as a file server for other uses, so I had to look elsewhere for an OS.