What else could I have done, instead of going down the Squeezebox path?
Go take an Apple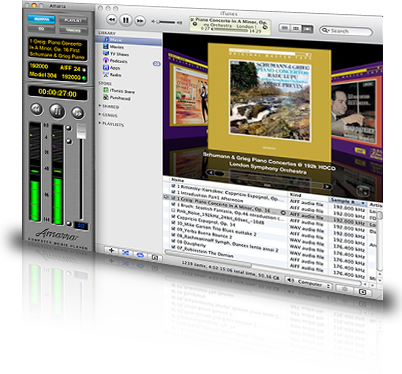 One alternative was clearly to go down the Mac path. This means I can tap on the large screen of an iPad to access all my music. The good news is that Macs do play FLAC natively now, thanks to a popular audiophile app called Amarra. The bad news: it costs US$695 – the cost of a decent DAC.
Get a PC with Media Monkey
In terms of resolution, the Squeezebox Touch only does up to 24-bit/96khz. This is already better than regular CD's 16/44.1 and ensures that it plays high-rez 24/96 HDtracks.com downloads.
Tracks encoded in even higher 24/192 resolution are slowly being populated at HDtracks and a number of other high-rez digital download stores, so it was tempting for a while to run a Windows PC with Media Monkey or other apps like Foobar 2000 and connect direct to a DAC that supports 24/192 over synchronous USB (like Wyred4Sound's DAC2).
I could run a "headless" Windows PC by logging in via a laptop or tablet computer via VNC, for example, or using Windows' own remote access feature. To control the songs, Melloware has a great PC app called MonkeyTunes, which hooks up to Media Monkey and gives control to your Android phone via an app called TunesRemote+.
But that could be a project for the future. First, I'd have to convince myself I can hear the difference with 24/192, since I don't have any tracks other than samples.
For me, it's always more about the quality of the recording rather than just the resolution the songs are recorded at. A great CD has always been good enough, and the few 24/96 tracks I have and like were already well-recorded to begin with.
There's another problem. With a PC running in the living room, you're bound to get some noise, from the CPU or power supply fan.You could spend more to soundproof your PC, but that's another topic on its own.
So, it looks like this FreeNAS/Squeezebox/Android combo is going to run for a while at home. To me, it is the best mix in terms of functionality, convenience and future-proofing. Going forward, I'm hoping for a redesigned Squeeze Commander or an iPeng app to take advantage of the big screens on upcoming Android 3.0 tablets. That would really be a blast.
Do share in the comments section below how you have set up your own music system or if you have questions setting up one.