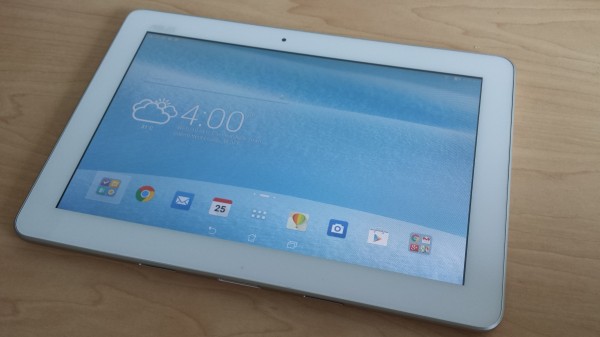 Asus' Transformer TF103C is part of its tablet refresh and at S$399, the 10.1-incher sure looks attractive with a keyboard dock. To be sure, some sacrifices had to be made in order to bring a large tablet hybrid to the masses.
Design and Screen
The first thing I noticed about the TF103C was its bulk. This 550g Transformer is no iPad Air, but it would have been unreasonable to expect the skies at this price.
Its 9.9mm (tablet only) body is of polycarbonate origin, but Asus' manufacturing expertise appears to have made the device free from creaks and other build issues. The curved edges also make the tablet easier to grip without digging into my palms.
When attached to its mobile dock, the TF103C turns into a 1.1kg laptop. It features one USB port, ideal for connecting a USB drive or a mouse.
The keyboard on the dock offers enough travel and is well-spaced enough – at least for a 10-incher – for some word processing. Combined with its touchpad, the TF103C would make a reliable notebook replacement if you could use Android as your daily workhorse.
The 10.1-inch IPS HD display on the tablet has a 1,280 x 800 resolution and it shows. With pixel density being a mere 149 pixels per inch, many screen elements can appear blurry, especially when displaying webpages.
Fortunately, the screen is not very reflective, and it's bright enough to be used under direct sunlight. There seems to be some colour shifting, but it only really becomes noticeable beyond 135 degrees or so.
Performance and Battery Life
The all too familiar Intel Atom processor makes its way into the tablet. This time, it's a quad-core Z3745 chip clocked at 1.33GHz that could go up to 1.86GHz in bursts.
The new Asus tablet may not have a crystal clear screen but its performance is sharp. In fact, the lower resolution makes running apps and gaming less taxing on the processor, allowing for generally snappy performance as long as the number of apps running in the background are minimised.
The TF103C packs Android 4.4 KitKat with ZenUI in tow, the same interface that has powered Asus' recent crop of new devices. While the TF103C gets by with 1GB of RAM with its lower resolution, loading large games does take a while due to its limited memory.
The TF103C has only 16GB of storage space, so you'd be expected to add a microSD card – with capacities up to 64GB – to satisfy your multimedia and work storage needs.
In addition to the usual 802.11a/b/g/n wireless and Bluetooth 4.0 support, the TF103C also supports Miracast, allowing screen images on the tablet to be wirelessly transmitted onto compatible smart TVs on the same wireless network. That's a useful inclusion that I did not expect at this price point.
The TF103C has a 19Wh lithium polymer battery that survived slightly less than nine hours of Web browsing over WiFi, a video or two and some photographs, during my hands-on test. In a tablet, such battery endurance is hardly groundbreaking – most tablets manage over 10 hours –  but would suffice for a general day of use.
Camera
It's often said tablets are not for photo-taking. The TF103C is no exception with its rather modest 0.3-megapixel front camera and 2-meg rear camera without flash.
Even images captured under bright daylight were grainy, a problem that was magnified when the shot had to be stretched out over the 10-inch screen. The front camera would work for video conferences, but its low resolution meant shots taken lacked sufficient detail.
Those buying this tablet should be aware of its imaging limitations and expect to use the TF103C's cameras only at a pinch.
Conclusion
In its bid to keep prices low, Asus has opted to cut back on the screen resolution and its camera. Its battery life also resides squarely in the average territory.
With that out of the way, however, the tablet hybrid proves to be a reliable netbook replacement that handles productivity tasks with ease, with horsepower to spare for a game or movie.
Those looking for a value tablet and who are mildly interested in having a keyboard to go with it would find themselves well-served by the TF103C. Take away the keyboard, however, and good alternatives like the LG G Pad 8.3 (S$438) or even the Asus Memo Pad 8 (S$499) offer alternatives.
Potential buyers ought to ask themselves the value of the physical keyboard to their usage patterns, and that would likely make or break this deal.