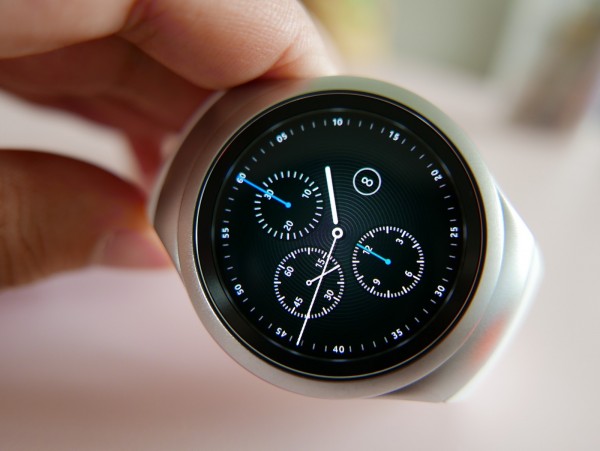 A lot has happened since Samsung unveiled its first smart watch a couple of years ago. No longer is its latest version stuck with a square screen. Nor it is a totally useless gizmo without your phone.
Perhaps most importantly, the new Gear S2 now looks and works like a regular watch – plus some nifty features accessible through a much improved interface.
The experience today is a world of difference from before. Indeed, the Gear S2 is one of the most user-friendly smart watches I've seen thus far.
Firstly, the customisable watch faces look the part with a clear, bright Super AMOLED screen that works just as well in bright sunlight as at night.
Among the free watch faces – fancier ones cost about S$1 to S$2 – the chronograph one reminds me of many Swatch Irony watches I used to own. The Gear S2 works just as well too.
The ease of use starts from the very first time you power on the device. Pairing with my Samsung Galaxy Note 4 was too easy. I simply had to place each of them close enough together and the wireless connection was made.
Samsung says the smart watch can work with a variety of Android devices, so check out the long list here on its website.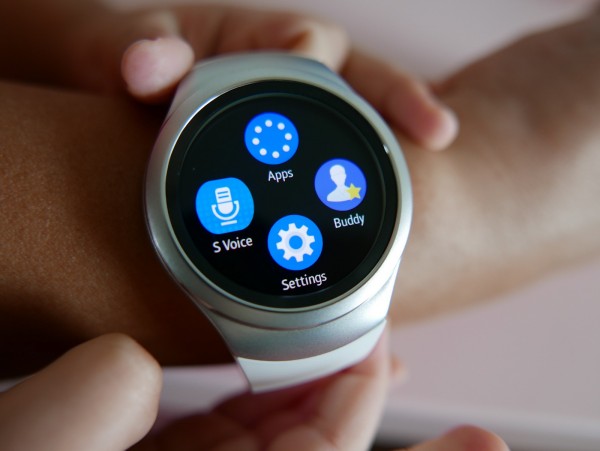 Indeed, the South Korean firm has taken a risk going with its own Tizen operating system instead of Android Wear, which Google will ensure wide compatibility with Android devices.
Well, if Apple can do it with its own software, why not Samsung, right? Fortunately, the Gear S2 is zippy in its interface, and very smooth when it comes to switching from one screen to another, say, from an app to the next.
I hadn't detected any lag during the time I used it. In truth, this is also the minimum expected. You want to see the time whenever you need it, like with a regular watch.
That's what the Gear S2 provides. Tilt it towards you and the screen lights up automatically. Turn away your wrist and it goes off. If you want to instantly shut the screen, just cover it with your palm.
What also sets the Samsung gadget apart is the use of the bezel. Turn it and it scrolls through options on screen. You can swipe, as usual, with your fingers, but the bezel makes it easy to quickly go through a long list of items on a menu.
The 1.2-inch screen, with a 360 x 360 resolution, is worth another mention here. It's sharp enough to let you see the details, say, the small numbers around the dial on some watch faces.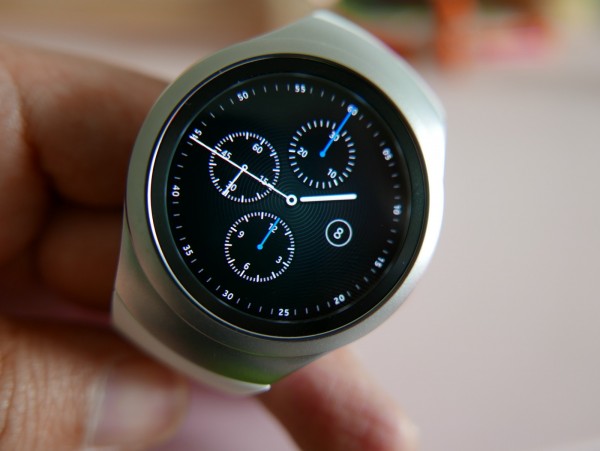 What I'm not so crazy about is reading messages on the watch. Okay, it's still good for short SMSes – no WhatsApp here, unfortunately – but e-mails tend to make you feel silly scrolling through page after page with the small screen.
Samsung has made the interface pretty nifty, to be fair. The keyboard is surprisingly usable for short replies. Plus, there are canned messages and even emoticons to quickly acknowledge, say, your boss or your wife.
Note that all these messaging functions work with a smartphone close by. There's a 3G version of the Gear S2, but what I've tested is the regular "tethered" version.
Okay, I should rephrase that. The smart watch actually does a fair bit on its own. Mostly, this is in the area of health tracking. Like your Samsung phone, the S Health app here records the steps you take each day and encourages you on.
The smart watch isn't always as intelligent as it thinks, of course. One night, after a long day at 11pm, it told me to get moving because I had been sitting still at the PC for an hour. I had just gone for a jog just a few hours ago!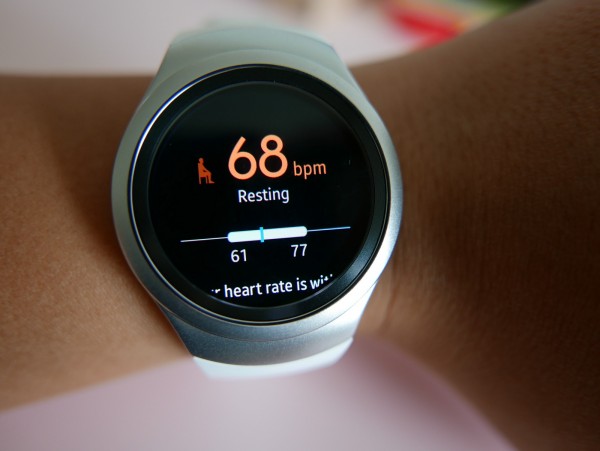 I guess these reminders are handy for some users. If you are a calorie counter, you can also meticulously enter your daily input for each item that enters your tummy. What I'd rather do is take the Gear S2 for a run.
One good thing about the Samsung watch is that you can bring your music with the watch, which has 4GB of storage onboard.
There's no need to bring an extra MP3 player. Simply pair it with Bluetooth wireless earphones and you're good to go. My Jabra Sport Wireless+ earphones linked up effortlessly.
Samsung has also included a heart rate sensor that measures how much you are pushing yourself, plus, of course, a distance tracker as well. To be honest, Samsung's built-in app does the minimum here.
There are no voice prompts, for example, when you're done with your target distance. Nor are there encouraging words or even workout music ready to go out of the box (see Sony's Smart B-Trainer).
When I took the Gear S2 for a run, I also wasn't sure of the accuracy of all the information. The maximum heart rate recorded was 242 beats per minute – way higher than the 190 I usually get when I know I'm pushing it. At that pace, I'm surprised I hadn't already collapsed.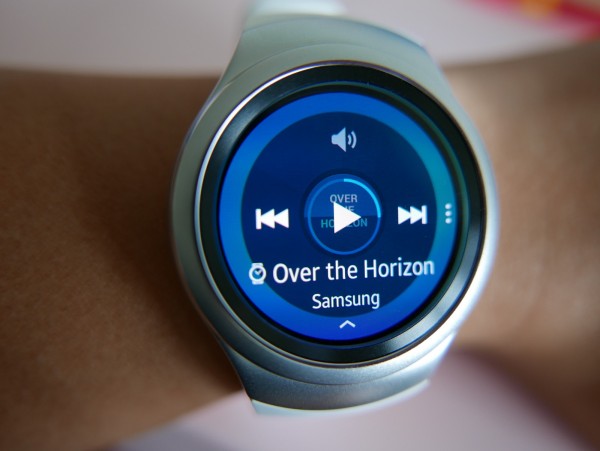 The Gear S2 also has the Nike+ Running app included, but you'd need to bring your phone along as a companion. Unfortunately, there's no Strava.
Therein lies the issue with Samsung's operating system. You have to be prepared to have fewer apps than Android Wear devices put out by other vendors.
Samsung will want to think its ease of use can sway you. This is especially true of the daily routine of charging up the smart watch.
The wireless charging dock that comes with the Gear S2 is so easy to use because it does away with the hassle of finding the USB connector on the watch and plugging a cable into it.
You also don't have to worry about placing the watch carefully on the dock – the smart watch just snaps into place. This seems like a small thing, but kudos to Samsung for thinking through a task that can get very frustrating day after day.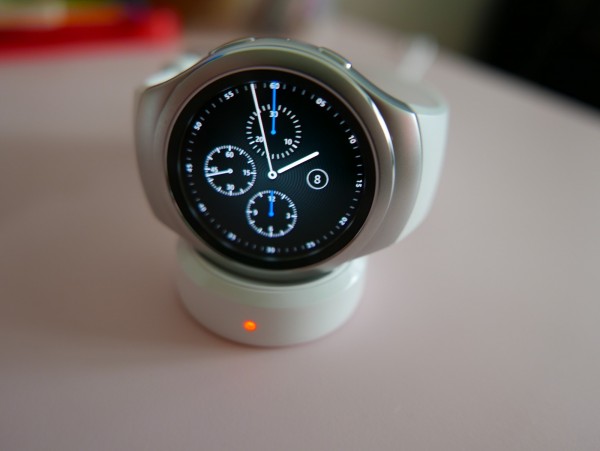 What of battery life, then? With the default screen brightness at 70 per cent, the Gear S2's 250mAh power pack lasted me an entire day easily.
That includes tracking a run and playing music over Bluetooth as well. I didn't have to resort to a greyscale screen to save power.
Unquestionably, the Gear S2 shows how far smart watches have come in the past two years. It's still not perfect, but I'm so glad the experience is that of a regular watch plus more, rather than a geeked out gadget that you'd tire of a week after.
It's not the cheapest but the Gear S2 has to be on your list of smart watches to check out if you are seeking one that's easy to use.
Great for sports, the regular version with the silicone band goes for S$448. The classier one with a leather strap will set you back S$548.