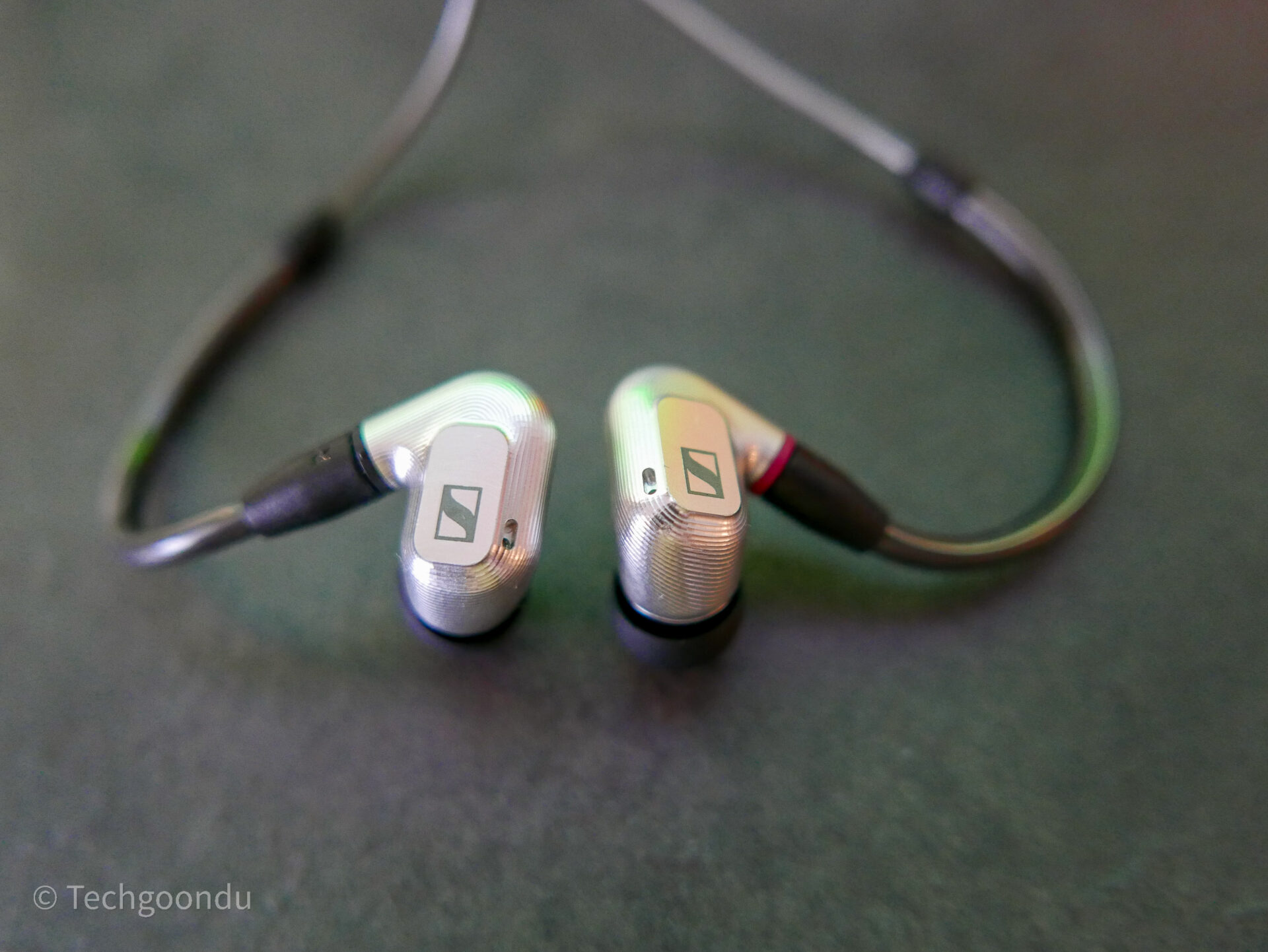 After hearing the old Sennheiser IE 800 earphones a few years ago, the experience has lingered in my head, reminding me of the sound quality possible from a small pair of earphones with a single transducer.
Since then, I've listened to other excellent earphones, including Campfire Audio's Andromeda which use multiple drivers, but I never forgot the experience with the Sennheiser in-ear monitors (IEMs).
Now, after a couple of weeks of listening to the new Sennheiser IE 900, I get the same unshakeable feeling of having heard something remarkable. I feel like telling the German audio company I don't want to return the review unit!
Not that that's going to happen (we return review units loaned to us), but this pair of IEMs have once again defined how great-sounding earphones can be, despite their small size.
Compared to the IE 800, the new IE 900 seem larger in size and to have given up the famous "exhaust" ports at the tail end, but they are similarly over-engineered for purists seeking the best audio quality.
Yes, I know this is a small group in a world where everyday audio in the form of true wireless earphones is already excellent.
Who would shell out S$1,999 for wired earphones like the IE 900 and possibly another S$1,000 for a good-enough audio player to pair with it? Well, I'd say, have a listen first.
The first thing that struck me when I heard the IE 900 was how transparent and open the sound was.
I actually did a double-take and looked around the room to seek out the source of the audio, wondering if it was outside of my ears.
To my surprise, it was playing from the Sennheiser earphones, plugged into a top-end Astell&Kern SP2000 music player. This was at a demo set up by Sennheiser a few weeks ago.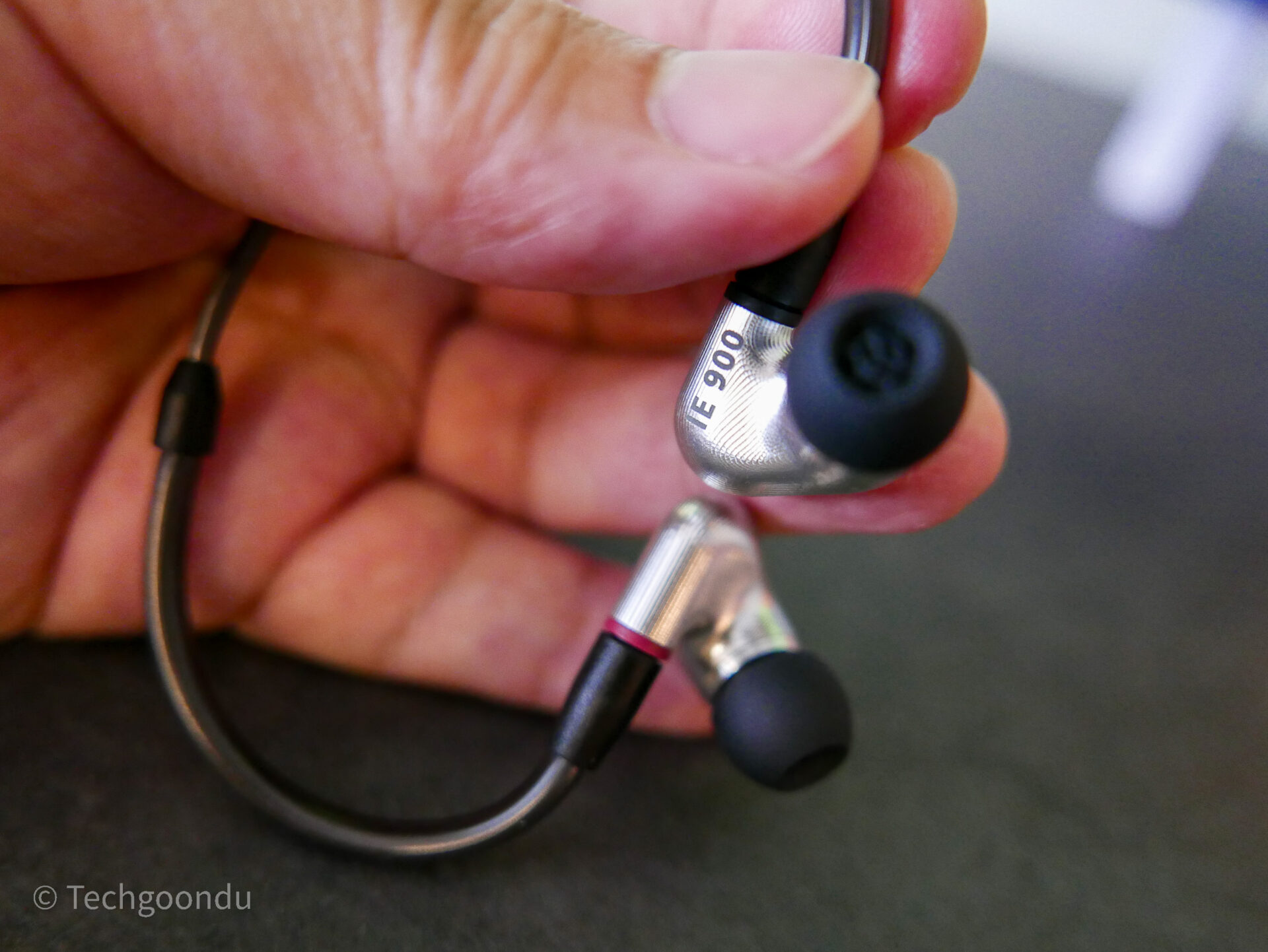 After I brought the earphones home and listened more, I also found an astounding amount of detail that I hadn't heard on other pairs of earphones of late.
With the IE 900's new 7mm transducer and a housing milled from a solid piece of aluminium, Sennheiser claims it has found a way to retrieve the minutest of sounds in a recording.
Fire up Melody Gardot's Live in Europe album, for example, and you'd hear each soft drawing of breath before she launches into a verse. Even audibly unremarkable audience reactions, which I've never heard previously, come through clearly.
For detail, you can also play the trusty Jazz at a Pawnshop tracks. The ambience of the set is so believable because the smallest intricacies can be heard from the wind instruments and percussion pieces, for example.
This isn't a sort of detail that comes across etched-out. Instead, it just works so well when you pair it with the clarity and revealing qualities that the IE 900 also bring along.
There's no amped-up feel or unwanted colour with the presentation. Rather, natural and effortless are how I'd describe the audio quality that you'd hear.
In other words, such a compellingly visual image of a soundstage forms in your head, convincing you that you're at a concert. Well, almost.
This is possible with what Sennheiser calls an "absorber" system, which is similar in principle to the earlier IE 800 earphones.
It uses a unique design in the case to prevent loud low-frequency sounds from masking or subduing soft high-frequency sounds, so you can hear all the nuances of a track.
Besides detail, a crucial part of any audio gear is the midrange presentation. Here, what you get is one that is full and rounded enough without overdoing things.
Some might say that Sennheiser often leans to the, erm, lean side, but I'd disagree. The signature seems more neutral to me, without rolling off the mid and top notes.
Listen to Cassandra Wilson's Harvest Moon and Cat Power's Troubled Waters, for example, and you'd find vocals delivered with the right amount of weight and balance. No unneeded sibilance, unnecessary "warmth" or other artifice.
The IE 900's bass control and extension are another source of joy for me. The earphones reach deep to roll in the low rumble on some tracks, while having the control to be nimble and also showcase the texture of the low-frequency notes.
Check out Rage Against the Machine's Take the Power Back, for example, to see how punchy and quick the bass is on the IE 900. It's rare to hear such excellent control and response on similarly sized IEMs.
Of course, do play The Plan by Travis Scott, from the Tenet movie soundtrack, as well. Immediately, you sense such excellent control and grip that is so uncommon.
The track goes extremely low and loud and there is nowhere to hide. Yet, here, the IE 900 earphones hold on to the bass beat and show off impressive extension.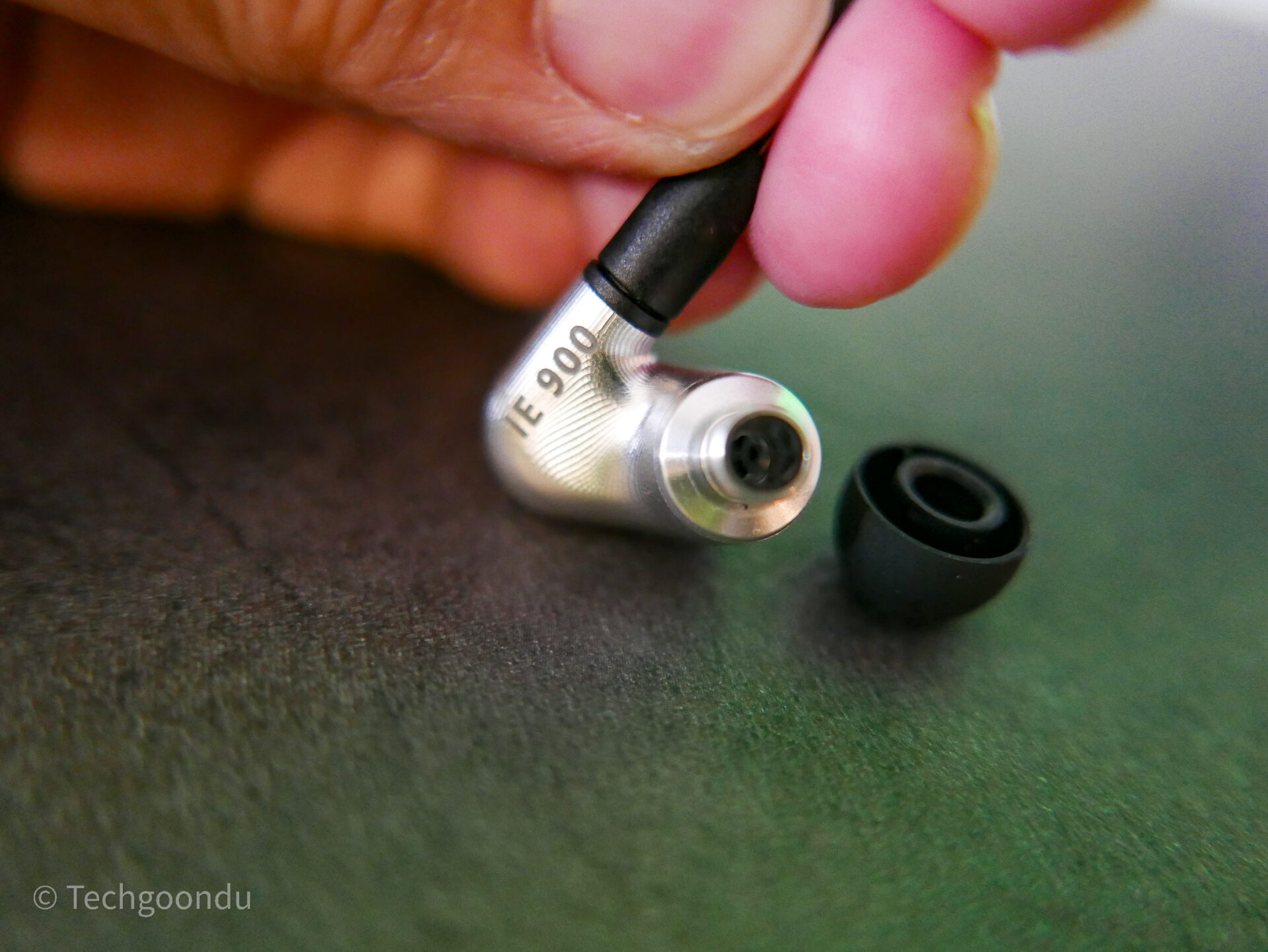 I'm also happy to say that the Sennheiser earphones work well with a wide genre of music, from rock to classical.
Even with complex recordings of symphonies with a good number of instruments and performers, there is a clear separation and good scale and depth to impress.
I'd still go with a pair of larger open or semi-open headphones (like Sennheiser's HD 800s or Beyerdynamic's T1s) for such multi-layered pieces of music but I'd not discount the IE 900 either, unless this is the genre you listen to exclusively.
Certainly, there is no lack of dynamism in the earphones. You get the speed needed in some tracks, from classical pieces to electronic dance music.
I know because I found myself unwittingly nodding my head to some random Ibiza-themed dance tracks that came up on Tidal. A combination of tight bass and fast attack did the trick.
While the IE 900 works fine with most genres of music, I'd caution about the music source you're going to plug your earphones into.
The excellent results I've got come from an Astell&Kern Karn Alpha portable player (S$1,699) that sports an excellent amplifier and dual digital-to-analog converters (DACs).
I played some of my own lossless tracks from it and also streamed from Tidal, either on the player itself or through a PC that used the player as a DAC.
I compared this to my much more modest Hiby R3 Pro (US$199 or S$270), which did decently well to bring out some of the performance of the IE 900, but which ultimately missed out on the scale and openness that the more expensive Astell&Kern delivered.
I also compared with Sennheiser's cheaper IE 300 earphones I had reviewed a few months ago, and yes, the improved detail extraction and deeper bass from the IE 900 were more obvious on the more costly player as well.
So, are the IE 900 worth their price? For S$2,000, they have better be perfect, a couple of journalist friends and I were joking at the recent Sennheiser demo.
Well, the company certainly comes close. To sweeten the deal, it has thrown in balanced cables with 2.5mm connectors and 4.4mm connectors so you can hook up to supporting players. That's besides a standard unbalanced cable with a 3.5mm connector.
There's been some unhappiness among early reviewers and buyers that the cables cause unexpected noise. I don't find that to be a big issue personally but yes, as pointed out, the cables should have been perfect, given the price.
In the rather regular-looking box, you will also find six pairs of ear tips that you can try on to find the right size for your ears. Also, a neat case but no leather here, surprisingly.
No volume control either on the cables, to play or stop a track. You'd need your player to do so.
To be sure, this is one pair of earphones for the purists. Those who don't want anything extra to mess with the sound and don't mind the cost and hassle of a separate player to make the best of the earphones.
Yes, this sounds like a lot of work and it is. A S$2,000 pair of earphones isn't for me or even most of the audiophile crowd who might like this kind of stuff but won't spend this much on earphones.
Yet, the IE 900 IEMs are the kind of uncommon audio gear that leaves you with an unforgettable experience once you've tried them out. They showcase the state of the art.
In the past couple of weeks, I've surprised myself by staying up several nights, well past sleeping time, to test out tracks.
Well, not really testing but more like playing my favourite tracks, which sounded better than I had imagined hearing before. And just smiling broadly at the performance and occasionally nodding to the beat.