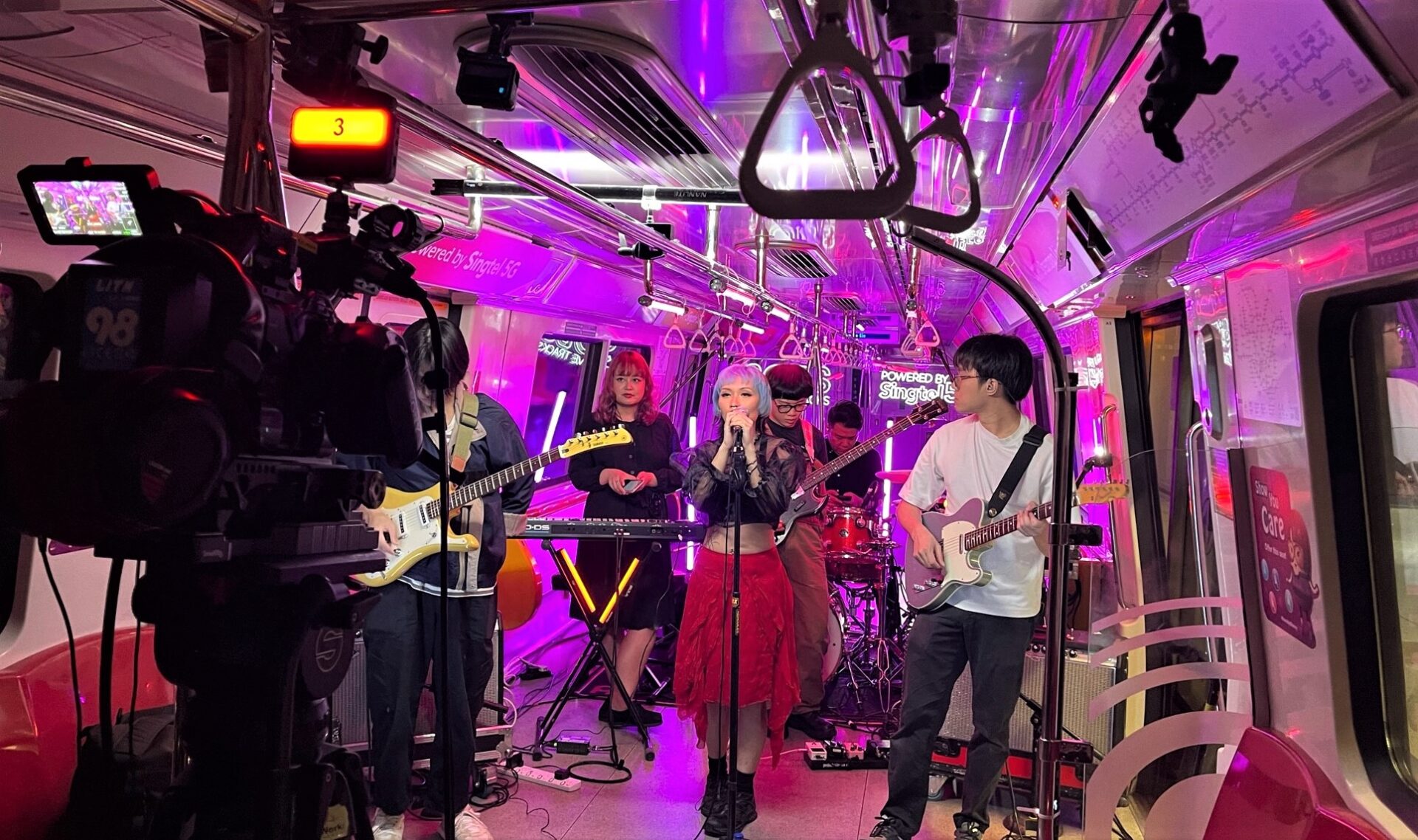 Singtel yesterday used its 5G mobile network to livestream an indie rock concert performed on an MRT train cabin 17m underground, in a bid to show off its network's superiority over telecom rivals in the city-state.
The concert by a local band called Sobs was shown on Singtel's social media platforms yesterday afternoon, as it performed in an MRT train cabin on the North-South line in Singapore.
The performance, part of a Singtel campaign to promote its 5G services, was aimed at highlighting its better coverage with the new mobile network technology, which promises not only faster downloads but also low latency.
A live event such as a concert requires a network that has little lag in delivering the high-bandwidth video content. Otherwise, a stuttering and hung video could be a big embarrassment, rather than endorsement, of Singtel's network.
To be sure, the event was run in a train cabin, not an actual train that was moving at high speed in one of Singapore's busy MRT lines. That would be a lot more challenging because it would mean passing the data from one part of the network to another as a train sped through a subway tunnel.
Singtel had blanketed the city with 5G signals since July last year and this latest demonstration will show that its network can be useful to more Singapore users, many of whom spend a lot of time commuting in subway trains.
Yesterday, Singtel said it had the widest coverage for its 5G Standalone network, with more than 1,300 outdoor locations and over 500 in-building, as well as underground sites.
It also claimed to be have the best coverage in Singapore's MRT lines, offering full connectivity on the North-South Line (NSL), the East-West Line (EWL), and the North-East Line (NEL) that runs entirely underground.
Singtel's efforts may be aimed at justifying its higher 5G prices to consumers, as competition intensifies in the still-nascent mobile technology.
Rivals StarHub and M1, which are sharing a 5G network, have also rolled out services at competitive prices, while the arrival of virtual mobile operators in the 5G market in recent months has dropped prices to as low as 4G plans.
And all this is happening despite a lack of consumer apps that could clearly take advantage of the added speed and low latency that 5G can deliver.
CLARIFICATION on Feb 24, 2023: The concert was in a stationary train cabin, not a moving train. The story has been updated to reflect this.