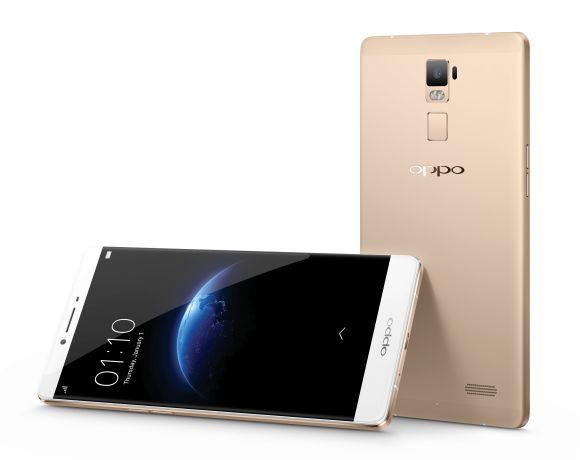 If you've been tracking the rise of Chinese phone manufacturers, you might be familiar with Oppo and its R7 from just a few months ago.
The R7 Plus, which I got my hands on recently, looks like the larger cousin on first glance. As its name suggests, it comes with a larger 6-inch screen instead of the 5-incher from before.
What it has retained is the attractive metallic case from before. It still looks and feels like a premium smartphone.
What has changed? There is now a fingerprint reader just below the rear camera, something I would not expect from a mid-end S$699 smartphone.
The camera itself has been moved from the corner at the back of the phone to the centre, much like what you get on the Asus Zenfone 2 and LG G4 smartphones.
At 158 x 82.3 x 7.75mm, the R7 Plus is huge and won't be pocket friendly for most people. I am a fan of huge screens, however, because I don't have to strain my eyes to read text on them.
The R7 Plus' screen is also definitely brighter than the Asus Zenfone 6 that I own. With smaller pixels at Full HD resolution, the sharpness and clarity on the new Oppo phone's AMOLED screen is definitely top notch when viewing photos.
I would very much prefer Quad HD resolution (2,560 x 1,440 pixels) for screens bigger than 5 inches, but that would usually mean a higher price as well.
With the huge screen, Oppo is wise enough to match the phone with a generous 4,100mAh lithium polymer battery. Okay, it's not removable, but it works as advertised.
During my tests, it didn't disappoint and I could use it like many other phones with a smaller screen, without worrying about charging up in the middle of the day. Of course, you'd be smart to dial down some of the settings, such as screen brightness, as well.
What I also like is the handy hardware onboard. There is 32GB of onboard storage plus 3GB of RAM. The Qualcomm chip in the phone is identified as MSM8939, which is otherwise known as the Snapdragon 615, a mid-end offering. It's not the fastest but isn't a slouch either.
One thing to note, though, is the microSD card expansion slot. Like on the R7 and Samsung's Galaxy A7, you have to choose the slot over one of the two available SIM card slots. Or go without add-on memory cards when you are utilising both SIM card slots, say, when travelling.
Photography is a main selling point for the R7 Plus. The biggest improvement here is the RGBW (red-green-blue-white) sensor for the main 13-megapixel shooter.
It is said to add a white pixel to the usual RGB layout to boost light sensitivity in low light while reducing noise in these difficult situations.
Does it work as advertised? I'd say the images from the R7 Plus are excellent during the day but could still end up muddy with some ISO noise for shots taken in the evening. In other words, it can shoot some nice photos but don't expect it to wow you all the time.
Like before, Oppo has turned to its own Colour OS user interface. Good news is, the R7 Plus is loaded with the new Android 5.1, so you don't lose out on the latest features from Google.
All in, Oppo has made the R7 Plus a worthy contender to challenge more expensive rivals such as the Samsung Galaxy Note 5 (from S$1,088) and should be considered for its lower price.
What Oppo might improve on, however, is one feature found on low-cost rivals – full dual-SIM support. Though it has a smaller 5-inch screen, the Asus Zenfone 2, for example, lets you slot in two SIM cards while still using a microSD card.