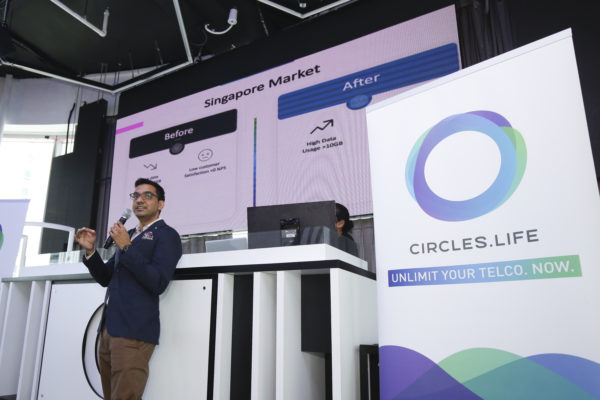 Virtual operator Circles.Life has come up with what appears to be the cheapest unlimited data plan in Singapore at S$48 a month, about half of what larger rivals are charging.
Unveiled yesterday, the new offering lets users surf the Web and watch videos as much as they like on their mobile devices as well as notebook PCs that they tether wirelessly to.
It is the latest salvo in two years of intense battles among the players in Singapore, which have brought better deals for consumers but worried shareholders of the Big Three telcos here.
To go unlimited with Circles.Life, users have to sign up for a basic plan that costs S$28 a month that gives them 20GB of data, 100 minutes of talktime, unlimited WhatsAapp and pay-as-you-go SMS.
They then purchase a S$20 unlimited data add-on that lets them use as much as data as they like on the go.
The total price of S$48 a month is less than half of what M1 and Singtel first offered in 2017, though these more expensive plans also come with unlimited talktime and SMSes. StarHub does not have a similar fully unlimited offering.
M1 currently charges S$98 a month for an unlimited data plan and Singtel offers a S$108.80 deal. Both are substantially more expensive now than Circles.Life's offer.
For many heavy data users, the new deals will bring more good news from an already competitive market. Even for most other users on a tighter budget, the market shakeup has brought cheaper deals that offer more data than they can use.
Circles.Life's basic plan, for example, is already generous with 20GB of data, which was unheard of a few years ago at its asking price. Others such as M1 and Singtel offer similarly generous data of 15GB or 20GB at a low starting price of S$20 a month.
Just as important for many users are the free add-on subscriptions such as caller ID and roaming, which they used to pay S$5 or S$10 a month for.
The only issue users have to beware of is whether the good deals will last. Many of the basic offers today from, say, M1, Singtel and StarHub, come with 5GB or less and are boosted by add-on data that might be taken away, say, when a contract ends in a year.
For virtual operators such as Circles.Life, which are driving the price war, the question is how long they can offer such low prices for generous data bundles.
The company yesterday also said it had secured funding from venture capital firm Sequioa India, though the amount was not disclosed.
The Singapore-based telecom player plans to enter Taiwan and Australia later this year, likely to gain economies of scale for the investments it has made in its network and customer management systems.
Plus, Circles.Life may can choose to earn less from subscriptions but sell add-on services, such as a phone insurance plan it also unveiled yesterday, say market observers.
What's certain is that consumers are getting the best deal in a long while, even before a fourth player has entered the fray.
TPG Telecom, which is expected to finally launch a commercial service this year, is currently offering a free trial to a limited number of users. The market has already been disrupted before it can try to shake things up.