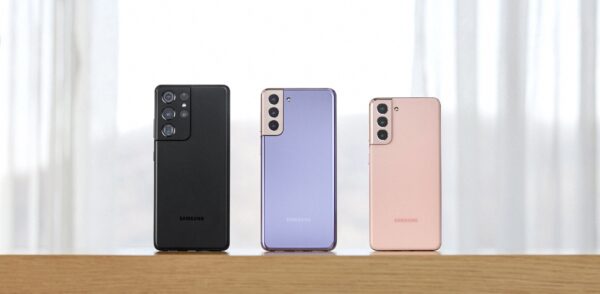 Samsung just unveiled its flagship Galaxy S21 smartphones early for 2021, showing off three 5G models that offer new screens and improved cameras in a slightly bulkier design.
The range-topping Galaxy S21 Ultra sports a 6.8-inch screen that offers a Dynamic AMOLED 2X display capable of a smooth 120Hz refresh rate. That means your games and fast-moving action movies should look smooth on it.
The new 229-gram phone also comes with a rocket launcher-like camera array that carries no fewer than four lenses at the back – one ultrawide, one wide and two tele or zoom).
It's not pretty – let's be honest – but since Apple debuted such bulky designs with its iPhones, people seem to have accepted the improved performance of ever larger cameras over a sleeker looking phone.
In this bulky array on the new Galaxy S21 range, the main upgrade for Samsung is the 108-megapixel image sensor, which lets you snap 12-bit HDR photos with better colour data and dynamic range.
Plus, all four lenses on the Galaxy S21 Ultra will shoot in 4K at 60 frames per second, so your video can have the resolution and clarity no matter which lens you pick for a situation.
The crazy 100x Space Zoom, first seen in last year's Galaxy S20 Ultra, is now backed by not one by two tele lenses – one offering optical 3x zoom and one optical 10x zoom.
Will it be a must-have feature? Well, let's say you need really steady hands if you're zooming in that closely. We should find out more when we try out the phone extensively.
Perhaps more interesting is a Bright Night sensor that Samsung is touting as its "biggest leap yet" in low-light photography. With noise reduction and 12MP Nona-binning technology, it claims to better capture difficult shots in dimly lit situations.
As you'd expect, the flagship model here will have all the bells and whistles thrown in. Besides ultrawideband (UWB), which lets you unlock compatible car doors, you also get Wi-Fi 6E.
This souped-up version of Wi-Fi 6 uses the 6GHz frequency band and promises blazing fast downloads. Unfortunately, for now, Singapore doesn't yet support this band for Wi-Fi routers, so it's a feature that's good to have here.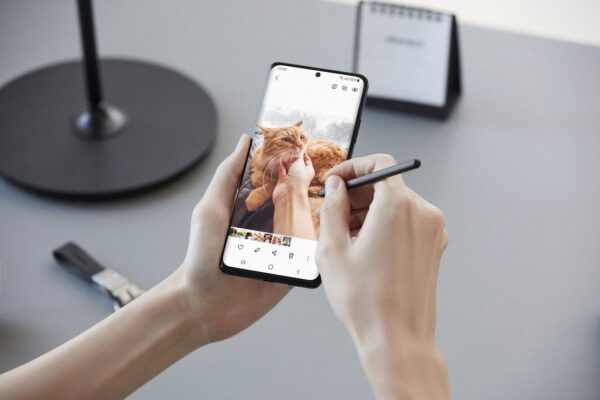 Interestingly, the Galaxy S21 Ultra also supports Samsung's S Pen stylus, which you usually see in a Galaxy Note and lets you draw or take notes on the screen.
The stylus isn't included in the package and there's no way to seamlessly slot it into the phone, but you get the idea – you may not need a Galaxy Note in future if you get this top-end Galaxy S21.
Asked about this today, Samsung executives in Singapore were coy to reveal future plans for the Galaxy Note. However, as screen sizes become more similar for both product lines, you have to question how different they will still be.
For its engine, the new Galaxy S21 Ultra will sport the newly unveiled Exynos 2100 processor, a 5-nanometre chip with eight Arm-based cores, which you'd be happy if you've always preferred Qualcomm's Snapdragon chips, which are only used for Samsung models in the United States and not elsewhere.
To power everything up, the phone comes with a good 5,000mAh power pack, which is similar to last year's Galaxy S20 Ultra and should keep things running effortlessly each day.
The Singapore version of the Galaxy S21 Ultra will also come with either 256GB or 512GB of storage. As you'd expect, prices are among the highest for a smartphone, costing you either S$1,798 or S$1,998, as the new range go up for pre-order in Singapore on January 15.
And what about the other two models in the new Galaxy S21 range? The Galaxy S21+ has a slightly smaller screen at 6.7 inches, while the Galaxy S21 is significantly less bulky with a 6.2-inch screen.
Surprisingly, Samsung has dialled down the resolution on these two devices – they offer Full HD+ instead of Quad HD+ resolution, which you get on the flagship Galaxy S21 Ultra or even last year's corresponding Galaxy S20+ and Galaxy S20.
Seems like a downgrade? Looks like it, but Samsung possibly feels that most people don't change up the resolutions anyway on the older phones, which ship with Full HD setting instead of the full resolution they support. It would also want to emphasise that the new phones this year still support refresh rates of up to 120Hz.
Of course, the lower-end versions of the Galaxy S21 range don't come with the same camera features of their big brother – they lack the 100x Space Zoom, for example. For that, they have less bulky designs as well.
They get a triple-lens camera array at the back for wide, ultrawide and zoom. There's up to 30x zoom, which is really more than useful for most users taking everyday pictures.
The Galaxy S21+ which comes with 256GB of storage will cost S$1,498 in Singapore. It's still not cheap but the lighter 202-gram phone is probably a smarter deal than the more costly top-end model with features most people won't use.
The Galaxy S21, meanwhile, has a significantly smaller screen though it retains the 256GB storage and feels clearly lighter at 169g.
Again, it costs a good chunk of change at S$1,248, but it might appeal to those who don't want to upsize to today's rather heavy phones. They get to pay less too.
We'll have more on the phone as we try them out over an extended period of time.