When the new Dell XPS 13 Plus was unveiled last year, it drew both critics and fans. Those who weren't so sure about the design pointed to the new row of soft-touch buttons (yes, remembering Apple) but fans noted the flat, sleek finish that is a lot neater than the good, old XPS 13.
As a long-time XPS 13 user myself, I'm here to tell you the XPS 13 Plus is the one you'd want if you manage to try it out.
On the outside, the new 1.23kg laptop is just slightly smaller than the previous model and you'd be hard pressed to spot any differences based on the solid metallic lid.
Once you open it, however, you'd realise that the new design ups the wow factor a notch with a fully flat layout. The keyboard fits in the entire length of the aluminium and glass chassis while the touchpad is tidily integrated at the lower part of the laptop.
There's no visible touchpad here – you just place your finger on the glass touchpad where you usually do. If you've ever used a touchpad, you'd get the mouse cursor moving smoothly.
Nothing is really depressed here – the glass surface offers haptic feedback so you feel like you are pressing on a button. It works well, though I'm a little worried about the glass standing up to rough use.
To be fair, folks who are using the XPS 13 from a few generations ago, like my five-year-old model, will be happy to know that the rubber surface that gives way to a sticky mess in humid Singapore is gone for good now.
Also improved is the new keyboard. Featuring a zero-lattice design, it is excellent for fast touch-typing. The larger backlit keys help reduce errors and the depth of the key caps makes for a pleasant typing experience as well.
What I also like is the nifty power button on the top right corner. It's tucked in with the rest of the keys and also doubles up as a responsive fingerprint reader.
What of the row of capacitive, soft-touch media and function keys that is the most controversial for the XPS 13 Plus? Well, they are handy and certainly fit in with the minimalist design but I find them a bit of an over-elaboration, of sorts.
Why can't I just have regular keys, though at the cost of a less pretty design? To be fair, you can still buy the old XPS 13 in Singapore – it's on clearance sale now with older 12th-gen Intel Core processors.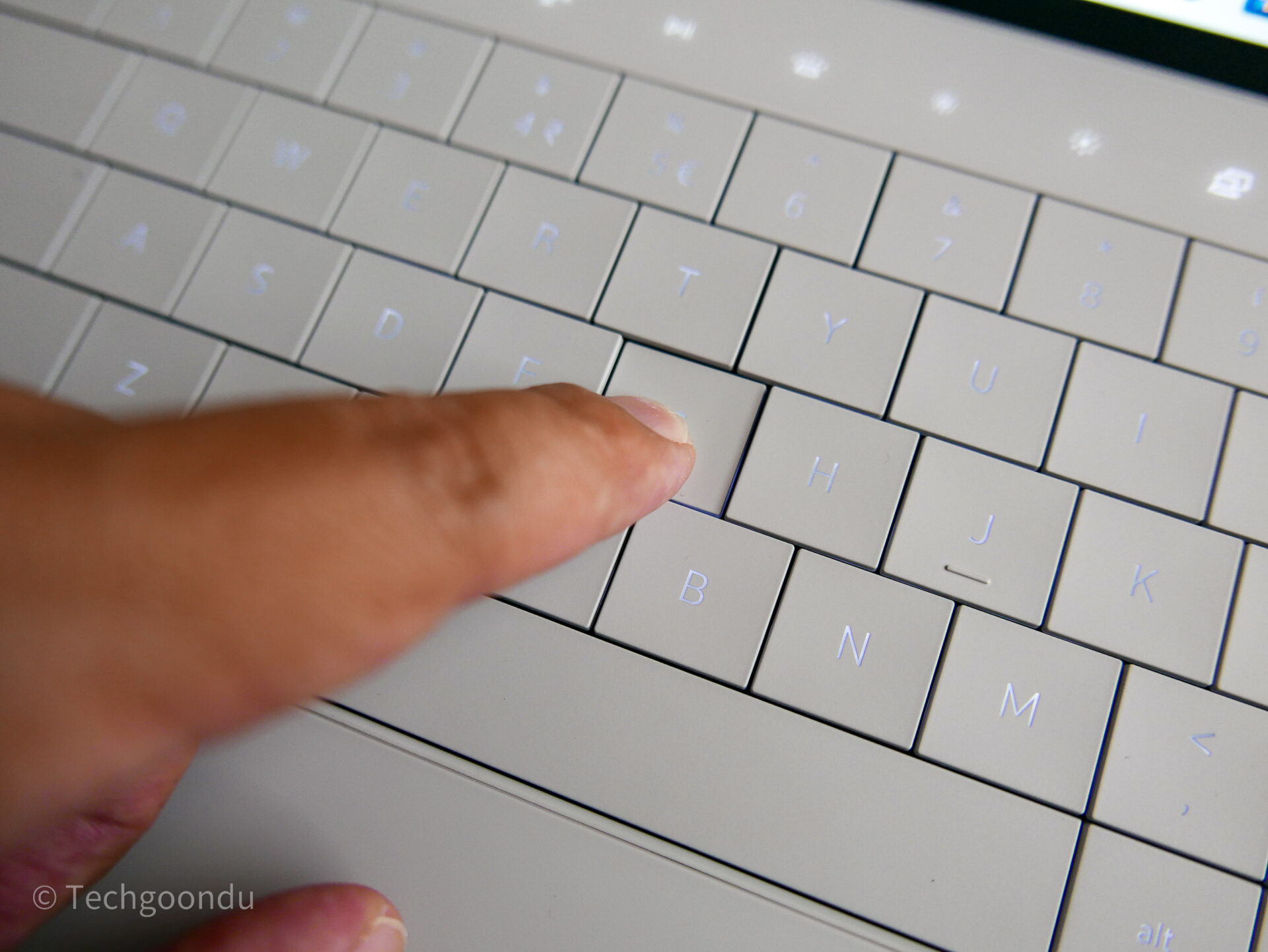 Speaking of that, the XPS 13 Plus unit I am testing has been updated with the latest Intel 13th-gen Core processors.
In particular, it sports a Core i7-1360P that is backed by 16GB of RAM, a 512GB solid state drive and a regular Full HD+ screen. Yes, just above the basic config that comes with a Core i5.
In PC Mark 10, which measures performance in everyday tasks like video conferencing and office productivity tools, the Dell ultraportable came back with a score of 5,485.
This is close to a similarly-spec'd Lenovo Yoga 9i 2-in-1 laptop we tested last month (5,665) and is faster than an earlier HP 2-in-1 laptop that sported a 12th-gen Core i7 chip (5,051).
With these specs, you'd expect the Dell laptop to be able to run many of the common everyday tasks expected of folks working in the office or remotely for a few years at least.
It also puts in a decent shift in 3D graphics, though clearly the integrated Intel Irix Xe graphics chip onboard is no gaming powerhouse. It's probably great for a casual game or two but you're better off with a discrete graphics chip if you need more horsepower.
In 3D Mark, which simulates popular games, the XPS 13 Plus returned scores of 1,570 for the Time Spy subtest, 5,135 for the Fire Strike subtest and 17,989 for the Night Raid subtest.
Unsurprisingly, this is close to the Lenovo Yoga 9i, which scored 1,816, 5,172 and 18,234 for 3DMark. The Dell machine is faster than the HP Envy x360 13 which scored 1,475 for the Time Spy subtest (other subtests were not run here).
To be sure, the Intel 13th-gen Core chip does bring a boost in performance as well as improved battery life. Playing Netflix non stop on the 13.4-inch Full HD+ screen, the laptop should be able to run for 13 hours on the 3-cell, 55Wh battery, according to Dell.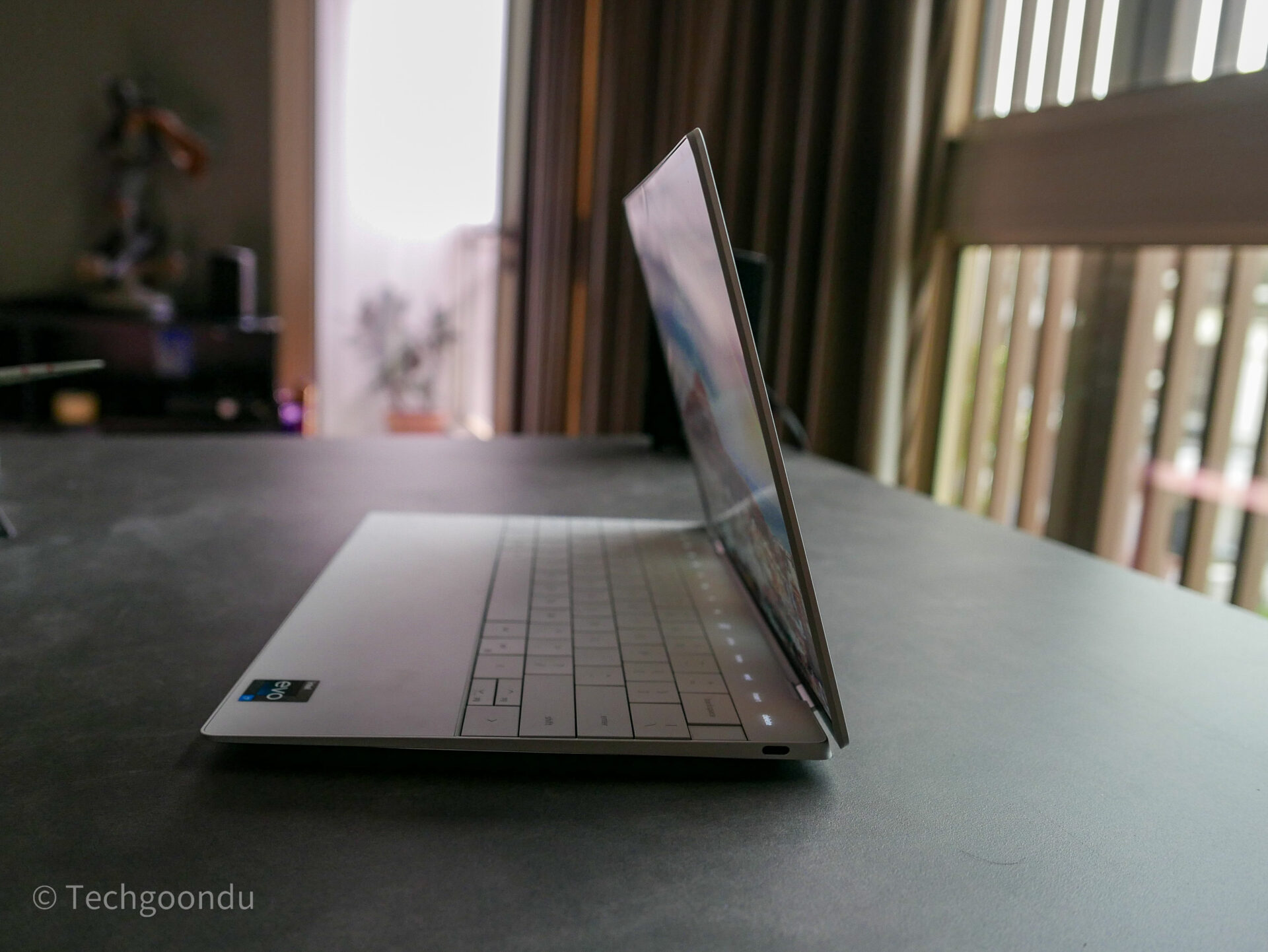 Notably, there are two other options for the XPS 13 Plus in terms of screens – an OLED version with 3.5K resolution and a 4K version LED version. Both offer touch, which is handy, say, for navigating around Google Maps.
However, these prettier displays will also drain your battery a lot quickly – down from the 11 hours on a Full HD+ screen to just 7 hours, according to Dell.
If you're mostly on the go and don't care for the quality of your Netflix shows, then longer battery life is what you'd probably want. However, if image quality is important, I can say the OLED display on a XPS 13 (or Plus) is one of the best you'd find on a laptop.
During my tests, the matt-looking Full HD+ version is good in keeping reflections down in a bright room, something that you'd like in sunny Singapore.
The laptop is also great for the start-stop workday experience of many of today's ultraportable laptop users. In other words, it can be easily closed up, carried to another meeting room and re-opened to instantly fire up the necessarily files and content.
In my experience, I can just close the lid and come back to the Dell laptop even a few days later and get quickly set up for a meeting or to work on a document.
On the flipside, an ultraportable laptop like the XPS 13 Plus that is easy to lug around usually lacks expansion ports. Like many other thin and light PCs out there, the new Dell laptop only two USB-C ports.
The good news is that you can hook it up to a modern monitor via its USB-C port (supporting Thunderbolt 4 and DisplayPort) and get power from as well as send images to the larger screen. So, a single cable to keep things tidy while you work at home.
Unfortunately, there's no a microSD card slot (like on the XPS 13) to easily transfer photos from your camera. If you have a wireless mouse that needs a larger USB-A port, you'd also need an additional adapter.
Dell, to its credit, has included a USB-C to USB-A adapter as well as a USB-C to 3.5mm headset adapter in the box so you're not forced to shell out exorbitant sums for these add-ons (Yes, looking at you, Apple).
That said, you'd need to carry these accessories along for your travels unless you start using a pair of Bluetooth headphones and a Bluetooth mouse, for example.
What are some of the other downsides? Like many ultraportables that are thin and have a metallic chassis to remove heat at the bottom, you have to get ready for a slightly warm lap if you were to place your PC there.
To be sure, this isn't scalding hot or dangerous in any sense, but do prepare a laptop cushion or mini desk of sorts if you want to work while lounging at the sofa.
Another thing to note is that, as you'd expect from an ultraportable, the speakers included here aren't the most impressive. You'd probably be listening to headphones most of the time, I'm guessing.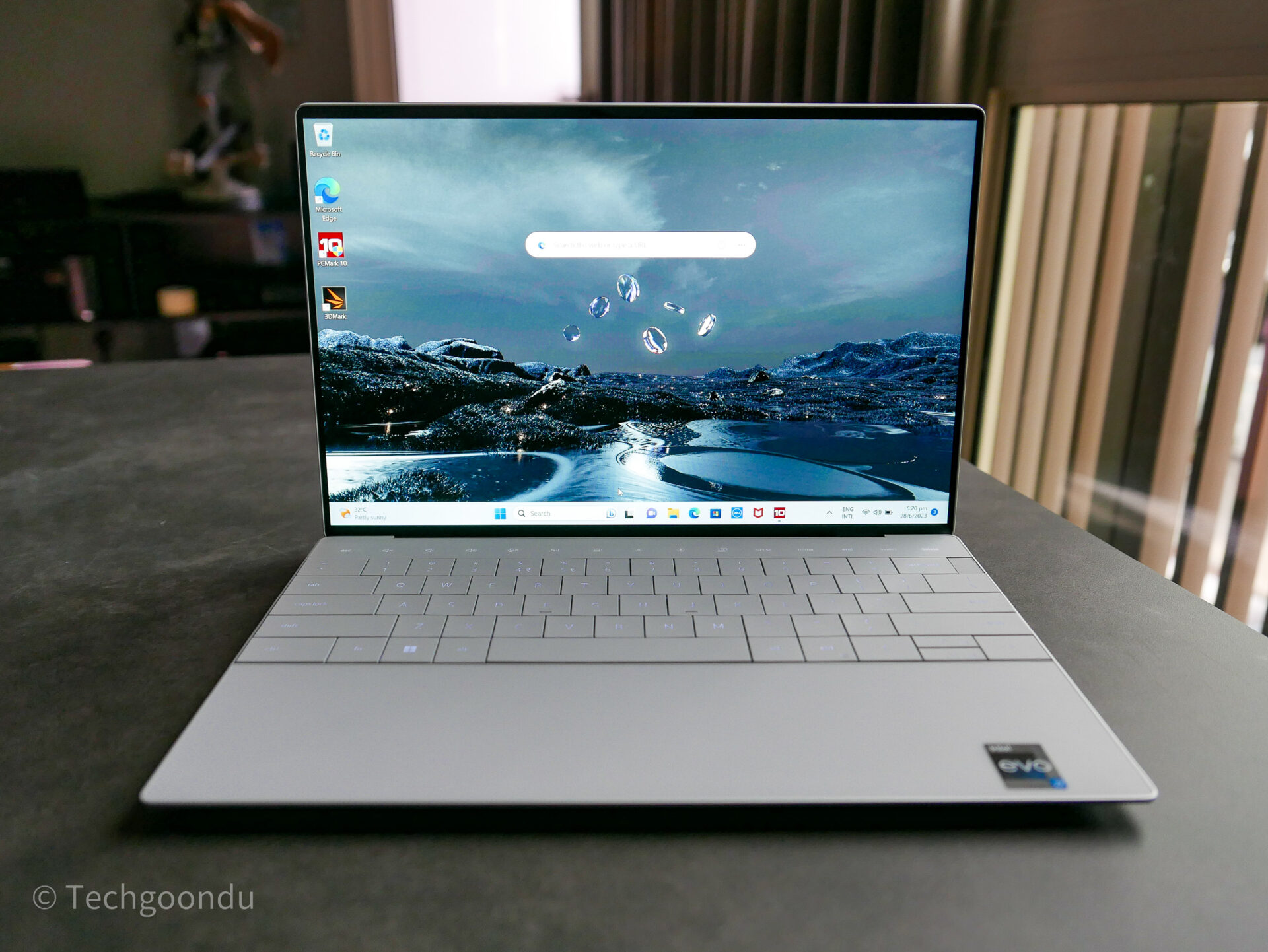 For an owner of an old XPS 13 – yes, one with the infamous "nose cam" at the bottom of the screen – I'd say the updated XPS 13 Plus is an attractive upgrade.
Like before, the new machine sports a hardy aluminium shell that's time proven – my own laptop has battle scars from trips to the cafe, airport and hotel while travelling for work.
While the new laptop isn't the lightest (consider the LG Gram or Dynabook Portege for that), the super-thin bezels on the XPS 13 range always result in a compact design that easily fits the tray tables in Cattle Class.
I have recommended the XPS 13 in the past to friends who wanted a slim and light machine and I'd be happy to tell them to buy the new XPS 13 Plus now.
If I were to finally junk my trusty XPS 13 (now on extended life with a battery transplant), I would happily buy an XPS 13 Plus. The model I reviewed here is going for S$2,099, which is what you'd expect for a flagship thin-and-light laptop today.
The darker "graphite" finish looks great but with the dents and chips you'd encounter on the road, the lighter grey/metallic option for my review unit might just be safer for rough users.