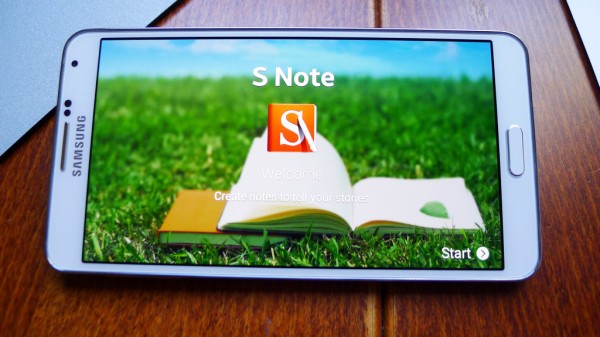 I was one of those tech writers who didn't think much of the original Galaxy Note when Samsung unveiled it two years ago. Too big a screen, I thought. And a stylus? Weren't we past that?
The Korean phone maker has certainly proved everyone wrong since. That's me included. Now in its third iteration, the Galaxy Note 3 just out last week is truly a joy to use.
The basic premise hasn't changed but Samsung has this time packed just about everything it has in its stable of tech gadgetry in the new phone.
The 5.7-inch screen, by now "okay" in size considering we got 6.44-inch behemoths like Sony's Xperia Z Ultra, is really bright and shows great colour vibrancy. In bright sunlight, it shines through to display what you want to see.
That's nothing less than what I'd expect from a Super AMOLED screen, to be honest. I still love the colours on the sharp, Full HD screen, though some users I know find that Samsung over-saturates things a little.
That's fine by me, really. Just like the two Galaxy Notes before, the vibrant colours and large screen combine to show off photos and videos really well. With the added space, you can also run a calendar widget and see your month's busy days at a glance.
Looks-wise, the Galaxy Note 3 hasn't really changed much, except for a "stitched" design for its back cover, which isn't dramatically different from the plastic covers before.
It's not ugly at all, but the 168-gram phone isn't breaking any design boundaries. Still, why change a winning formula? Surely, that's one lesson the Korean designers have taken from Apple.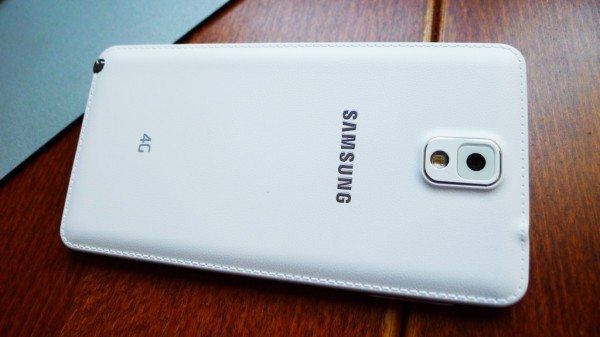 Hardware-wise, the important attributes all remain. There's a microSD card slot to complement the already generous 32GB of storage, the pressure-sensitive stylus to scrawl with and a removable battery for folks who want to change out a power pack.
In other words, no compromise. And that applies to download speeds as well.
As a Cat 4 4G device, the Galaxy Note 3 can download at a top speed of 150Mbps, in ideal but hardly achievable conditions. I wasn't able to test that, as my operator – M1 – only supports up to 75Mbps and SingTel is the only one in Singapore offering 150Mbps 4G downloads.
Still, it's good to know that the phone can support higher data speeds, especially if they become available through other operators in future. My own experience with the M1 4G network was glitch-free and downloads of about 20MB, like apps, usually take just a few seconds.
Perhaps more importantly, the new phone also has a powerful 2.3GHz quad-core processor and a handy 3GB of RAM to keep things running smoothly. This surely helps it avoid some of the occasional jerkiness you'd find with some Samsung devices.
I'm still not a fan of the Samsung Touchwiz interface, which I feel is clunky and often gets in the way and slows things down.
Surprisingly, the experience is not that bad on the Galaxy Note 3. Surely, the souped-up hardware has helped in some way to keep Samsung's add-on stuff running smoothly on top of the Android 4.3 operating system.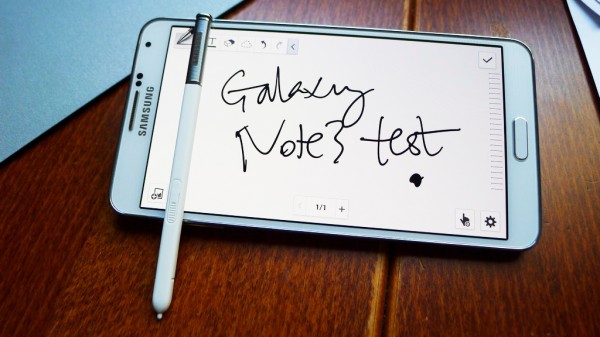 What also impresses is the SPen stylus. I'm no artist so instead of drawing, I'd use it to scribble notes on one of Samsung's handful of bundled handwriting and drawing apps. I've used a Galaxy Note 8.0 before and I can say the Galaxy Note 3 feels just as intuitive.
To make things easier, the phone also automatically pops out a mini menu of apps to launch when you take out the stylus and bring it close to the screen. A simple feature, but one that saves you the frustration of looking for the right app when you want to start scribbling down notes quickly.
What I also like about the Galaxy Note 3 is the 13-meg camera. Like its rivals, it focuses really quickly and does generally well in dim light, like in a restaurant, for example. I still prefer HTC's UltraPixel camera, though the Galaxy Note 3 should not let you down if you bring it along for snapshots on a holiday.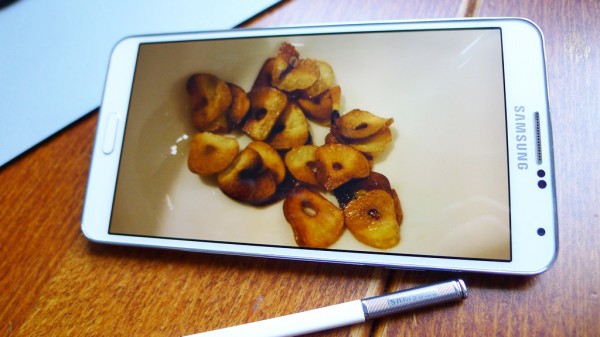 Finally, what really surprised me, during close to a week of using the phone, is the battery life. Despite making calls, sending WhatsApp messages all day and surfing the Web, the 3,200mAh power pack has lasted me as long as almost two full days on one charge.
I'm already quite happy with my Galaxy S4, which I can use from the morning to well past dinner time without worrying at all about low power.
With the Galaxy Note 3, I can even stretch things to the next day. I had actually forgotten to plug it in for charging one night and absentmindedly used the phone for almost a full day the next day.
This was with GPS, Bluetooth and NFC turned on and the screen brightness set to automatic. I didn't even put the phone on power saving mode. I'm impressed.
At S$1,048, the Galaxy Note 3 certainly isn't cheap without an operator contract. What I also have reservations about is Samsung's interface, which looks clunky next to Sony's more polished alternative.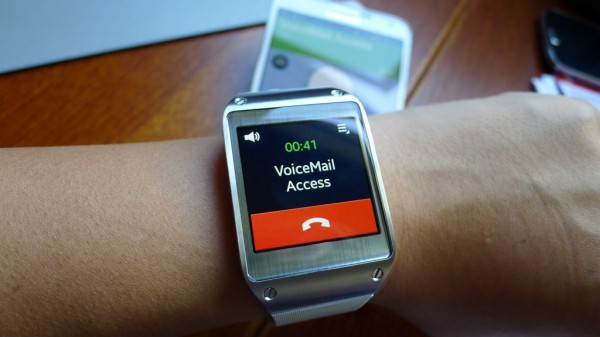 The field is also getting more competitive, with Nokia's interesting Lumia 1020 sporting a great camera and a resurgent Sony putting out great-looking gadgets once again.
Still, Samsung will win over users with the momentum that it has been building up in the past two years. Though the Galaxy Note 3 isn't much different, looks-wise, from before, its stylus and large screen combo remains an attractive proposition.
It helps too that Samsung has the Galaxy Gear smart watch, a companion to the Galaxy Note 3 that lets you take photos and answer calls on your wrist, and which places the Korean phone maker a notch above some of its rivals.
More importantly, with kinks out of the way, mainly thanks to faster hardware, the phone is a joy to use. I'm not sure it's worth upgrading from my Galaxy S4 – or if you have an HTC One or Sony Xperia Z – but if you are looking for a replacement for a two-year-old phone, the Galaxy Note 3 will surely have to rank high on your list.
We'll have a Galaxy Gear review coming up soon. Do look out for it!