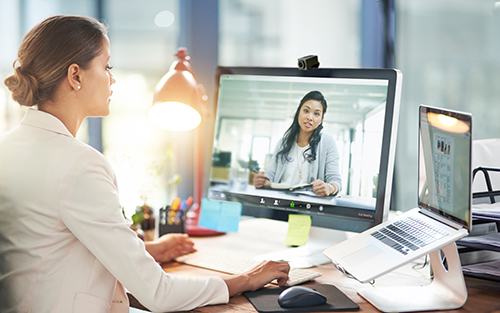 Even as Singapore's partial lockdown or "circuit breaker" period comes to a close in about a week, many here will continue to work, study and stay at home to combat the spread of the coronavirus.
That means relying on the technology "interventions" that have come to be part and parcel of life in this troubling time.
Whether it is a Zoom video call or a new laptop to get your reports out, these are the tools that do the job of "clearing a fault" in the system, as the "circuit breaker" measures gets lifted bit by bit.
Just like working from home will be common practice from now, some of these tech tools may be here for the long term. Here are five:
1. Video calls
They are the first things that come to simply because they became the defacto way to keep in touch during this pandemic that has caused global lockdowns.
While not new to folks who work with colleagues from overseas, video calls were not as common in a small place like Singapore, where every place is typically under an hour's travel away.
Thanks to the likes of Zoom, Google Meet, Cisco Webex and many other video call services, you could continue to have meetings, attend lessons and even join friends for a drink online.
With air travel and local social restrictions still in place in Singapore, it's likely the trend of video calls will continue. Makes you wonder why we take all those flights and commute on busy trains so often, doesn't it?
2. Laptops
Needed by many schoolchildren for their online lessons, laptops were swept off the shelves early during the "circuit breaker" period. No surprises, of course.
For those working from home, if you've been using the office laptop for your private stuff, it's time to switch to your own machine for your music, social media and other personal activities.
Some companies take a dim view of that, not to mention all the personal information you have to remove if you have to return the laptop one day.
In Singapore, eligible companies can apply for a subsidy when buying new laptops for staff to work from home. Low-income families can turn to the government's assistance scheme to get hold of a machine.
3. Webcam
If you're using a desktop PC or think that your laptop's camera is substandard, a good webcam will be your new best friend.
In fact, video calls are possible all thanks to webcams, which until recently haven't been seen game-changing devices.
Don't forget that a poor image gives off bad vibes, especially if you're talking to your boss or a client, whom you would want to impress.
If a better webcam projects a better image, maybe through a built-in light source, then why not? We spend money on tailors and designer clothes to look smart for work too, right?
4. Bluetooth earphones
Not everyone wants to listen to your conversations over the speakers, certainly not your spouse or children who have to be within earshot. Bluetooth earphones are thus a great addition to have.
Today's variants offer much improved battery life – they run for days, if you use them sparingly – and some of them also sound great for music.
Why get a wireless pair? Well, you don't have keep getting tangled with wires as you type away, say, important notes from a meeting.
You can even walk around a room to stretch, if the other party doesn't mind looking at your empty seat, if your video isn't on.
5. Good Wi-Fi
Of course, nothing would be possible without a good connection, as the recent broadband outages in Singapore showed. Within your home, good Wi-Fi coverage makes it possible for you to get on calls, surf the Web and share files seamlessly.
If you're getting spotty coverage, there are more options today, from enterprise-grade Wi-Fi to mesh networks that promise easy coverage throughout your home. So, you can fire off an e-mail quickly even in the bedroom.
Of course, all this tech means that you need to draw the line with going off work. Well, as much as possible, anyway, because working from home means you essentially can be at work all the time, helped by the technology that is supposed to make life easier.
Besides managing your time, it also pays to be follow some etiquette in this new digital life.
Try to put on a decent looking t-shirt for the camera, and do plan on wearing pants, especially if you're the forgetful kind who might leave the camera on while stepping away from your desk.