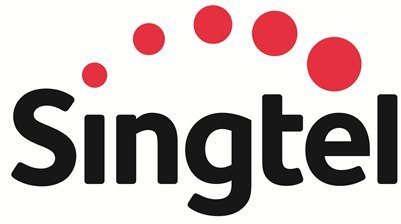 Singtel may say it's here to make every day better, but it's certainly not having a good day after launching its new logo, along with a promise to improve customer service.
The first change in 16 years, the new logo unveiled on Wednesday has been made fun of and compared with other logos over the years.
Comedian Gurmit Singh said the balls on the logo referred to how many reception bars he saw on his phone, while others likened it to another Singapore telecom entity – the Broadband Media Association set up in 2001 to promote content on the fast networks.
Worse, Singtel chief executive Chua Sock Koong was seen repeating an unpopular call for services such as WhatsApp to pay up to ensure that users enjoyed high-quality service.
In that story in The Straits Times, you'd find an unflattering photo of the head honcho. Ouch, if you are part of the Singtel branding campaign.
Not only is Singtel still seen as the dominant, big bully often characterised by rivals, its new campaign seems to have galvanised those who already dislike it as a telecom operator from the old order.
The name may have changed from SingTel with a capital T to Singtel with a lowercase t, to reflect its change from a pure telecom player to a service provider of various different services, but people still remember the days when Singtel owned most of the underground cables used for phone calls and the Internet.
Wait a second, Singtel still owns that! In fact, after a Singtel-owned business trust bought over OpenNet, the former owner of the Singapore's nationwide fibre optic network, last year, questions were asked if it would once again be the dominant player that restricted competition in the past.
To be fair, that purchase comes with a number of restrictions from the government regulators. Unlike the bad old days in the early 2000s, Singtel can't give itself preferential rates and keep rivals out of the game. Today, Singapore's fibre broadband speeds are among the fastest in the world, while prices are surely among the most competitive.
In other words, Singtel has had to change in the past 10 years, particularly in the last five. It has fared better than StarHub, for example, with the introduction of fibre broadband services in Singapore, by being bullish with the new technology.
It also had relatively good mobile network coverage, if you see the test results that the Infocomm Development Authority (IDA) puts out each year. It has been ahead of StarHub and M1.
And when it came to on-the-ground tactics to win over subscribers, it flexed its muscles when it mattered. It was aggressive with cellphone subsidies, for example, with Apple's iPhone, to grab market share, even as it took the lead in cutting the bundled data package in smartphone plans.
So, Singtel has tried to transform over the years, often positively, but sometimes, the way it goes about its business draws flak because it is the biggest telco in town. Plus, its heritage from the old Singapore Telecoms days haunts like a spectre of a former monopoly.
It could certainly have done better in 2013, when it was fighting for the pay-TV rights for the Barclays Premier League. Seen as a player that tried to circumvent the government's pro-consumer cross carriage rules, it drew the ire of many football fans and potential customers.
For those who blame it for the higher prices to watch live football matches now, the way it went about securing the rights won't be fast forgotten with a rebranding.
Far more challenging will be how it tackles future challenges. Topmost here is the one from so-called over-the-top or OTT providers, such as WhatsApp.
These service providers don't own any networks, yet they have become so popular that smartphone users are clogging up expensive-to-build infrastructure by telcos, which now want these upstarts to pay up to ensure smooth service.
It's a contentious argument. Consumers understand that somehow, a cost is required to carry the dozens of pictures and messages they send each day, but many don't want Singtel to initiate the first move to raise prices.
After all, Singtel is hardly suffering, with net profit rising 19 per cent to S$1.04 billion in the second quarter ended in September 2014. In Singapore, its consumer business brought in 4 per cent more revenue.
What Singtel will never be is an underdog – not in Singapore, anyway – so it will not easily be seen as a telco eager to change things around and win over consumers.
One of Singtel's first rivals – M1 – did that when it came into the market in 1997. Its bright, sunny disposition and great customer service still sell well today, even though its first customers may be in their 40s or older today.
A kaki for the common man is something Singtel will find hard to be. In selling itself as a new, transformed company, it will do well to save on the flashy and deliver the real deal.
In other words, less rebranding, but more real benefits, as promised. Let's see if Singtel technicians will really show up within 30 minutes of an appointment. And if customer service officers will call back at a time of customers' choosing.